Published
December 14, 2022 - 07:00am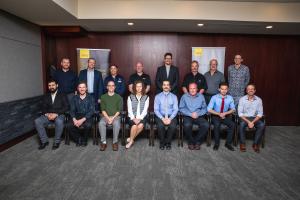 Sandvik Coromant and the Northern Alberta Institute of Technology (NAIT) recently celebrated a 15-year partnership with a new contract extension that will be in effect until Dec. 31, 2025.
The partnership was officially signed and agreed upon before an awards ceremony hosted by Sandvik Coromant and NAIT in Edmonton in October. Representing Sandvik Coromant during these proceedings were Magalie Jackson, Canada General Manager, Alex Durkovics, Channel Marketing Manager, and Jim Cordoviz, Sales Regional Manager.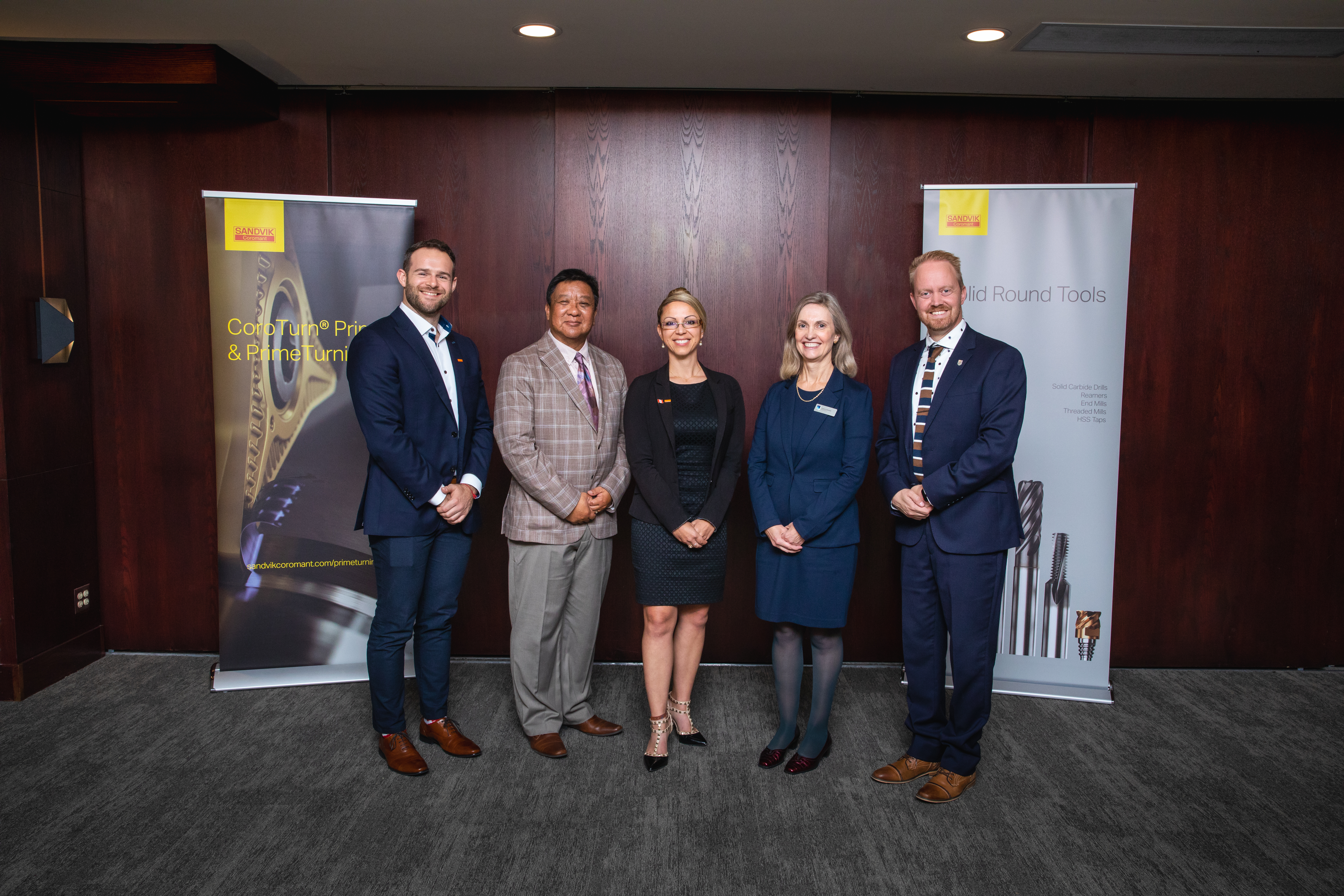 "Education has always been at the forefront of Sandvik Coromant, whether with the customer, with our partners and even in the academic space, in order to develop the future of manufacturing," said Alex Durkovics, channel marketing manager for the Americas. "We're proud to have a positive influence in Western Canada through our long-term and continued partnership with NAIT, empowering students with the tools, knowledge and passion for a positive impact on the future of industry."
The three-year agreement includes gifts-in-kind for equipment and digital machining applications, as well as a robust scholarship program. A total of 12 scholarships are available to students each year for the five-year period. Eleven awards per year are available to first- through fourth-year students, which are awarded based on academic achievement. The twelfth award is the Sandvik Coromant Leadership award, which is granted to the top student who demonstrates initiative, creativity, leadership with their fellow students and enthusiasm, in conjunction with academic achievement.
"Together, Sandvik Coromant and NAIT have always provided students with a healthy and fair competitive environment to help them grow in every facet of life for almost 15 years," says Magalie Jackson, Canada General Manager. "As the most recognized school in Western Canada, we are so proud to partner with them. We have given equal opportunities to all our students so that they realize their true potential and get ready to face the outer world once they complete their studies. And we are so pleased to see the recipients of these awards performing and excelling in their respective areas of interest year after year."
"We are so grateful to Sandvik Coromant for their generosity in providing equipment and educational resources for both the students and staff," said Vance Monaghan, 2022 recipient of the third-year academic achievement award. "It lifts a huge burden, knowing that we no longer need to be fixated on the cost of tooling. Because of your gifts, we can take creative risks and grow our skills further than what we could imagine possible. Your dedication to and sponsorship of us — the students — has incentivized many people I know to join skilled trades, or at least further appreciate the dedication and skills tradespeople bring that keep our world turning."
As part of the partnership, the state-of-the-art NAIT Sandvik Coromant Centre for Machinist Technology facility is available for use by all machinist programs for hands-on training, machine time and coursework. Within the Centre are four CNC machinist labs, a metrology lab and a centralized tool crib, as well as smart classrooms, computer labs and office space for both instructors and support staff.
"Sandvik Coromant's ongoing commitment to NAIT goes above and beyond," adds Matthew Lindberg, Dean, NAIT School of Skilled Trades. "Not only is Sandvik Coromant a trusted industry partner, they support NAIT's vision through their support of our students. Because of the contributions of Sandvik Coromant, together we can provide an exceptional learning experience for students and advance our goal to be a leading polytechnic."
"On behalf of our students, the School of Skilled Trades and NAIT, I offer my sincerest thank you to Sandvik Coromant. I look forward to all that our continued partnership will bring in the coming years."
Related Glossary Terms
computer numerical control ( CNC)


computer numerical control ( CNC)

Microprocessor-based controller dedicated to a machine tool that permits the creation or modification of parts. Programmed numerical control activates the machine's servos and spindle drives and controls the various machining operations. See DNC, direct numerical control; NC, numerical control.

metrology


metrology

Science of measurement; the principles on which precision machining, quality control and inspection are based. See precision machining, measurement.

turning


turning

Workpiece is held in a chuck, mounted on a face plate or secured between centers and rotated while a cutting tool, normally a single-point tool, is fed into it along its periphery or across its end or face. Takes the form of straight turning (cutting along the periphery of the workpiece); taper turning (creating a taper); step turning (turning different-size diameters on the same work); chamfering (beveling an edge or shoulder); facing (cutting on an end); turning threads (usually external but can be internal); roughing (high-volume metal removal); and finishing (final light cuts). Performed on lathes, turning centers, chucking machines, automatic screw machines and similar machines.