Published
June 28,2022 - 07:00am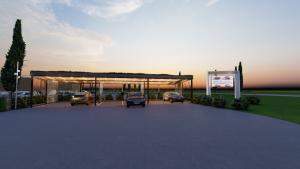 A brand-new mobility hub of fuel cell and plug-in hybrid cars will be available to everyone in Sandviken, Sweden due to a collaboration between cutting tool manufacturer Sandvik Coromant and Toyota's 's mobility brand Kinto.
The cars will be available around the clock, at any day of the week. The cars can be booked with the Kinto app, which is free to download.
The collaboration stemmed from the need to offer Sandvik Coromant employees tailored mobility solutions. To get the most use of the new car sharing station, Sandvik Coromant is also allowing the public to rent and use the cars. The cars will be available for booking by the hour up to monthly, said Björn Roodzant, vice president at Sandvik Coromant.
"Our focus on sustainability runs through every part of the company and being able to offer our employees more sustainable options for transportation is an important aspect of it. We are putting a lot of effort into taking a bigger responsibility and making a positive impact in the communities we are established in, which is why it's only natural for us to make these cars available to anyone at Sandviken and not just our employees," he said.
"Sandvik Coromant already runs one of the most ambitious hydrogen projects in Sweden, and the new collaboration with KINTO marks another important step for us. I'm looking forward to seeing these cars being used at any time of the year or day by our employees as well as the public in Sandviken."
A reserved parking spot, fuel, taxes, and possible additional fees are included in the rental cost of the cars. The more people use cars, the more beneficial it is to the environment since the cars are being used more efficiently.
"KINTO enables more efficient usage of cars in general. "We are proud of our collaboration with Sandvik Coromant and the fact that they are now opting for a seamless and inclusive car service that offers more sustainable transportation solutions to other companies as well as people in general who need a car," said Johan Lundblad, a head of KINTO Nordics/Baltics.
A plug-in hybrid, as well as fuel cell vehicles
The cars that KINTO offers generally have very low emissions of CO₂. The new carpool will include the Toyota RAV4 PHEV (plug-in hybrid) as well as Toyota's 2nd-generation fuel cell car, Mirai, which runs on hydrogen. Refueling a hydrogen car is as quick as fueling a gas or diesel car. The hydrogen is transformed into electricity, which powers the engine, with water as the only emission. A fuel cell car is an electric car without a large and heavy battery, and it doesn't have to be charged.
The Toyota RAV4 PHEV is charged through an electrical outlet and can run approximately 75 kilometers on electricity. Past that distance, it runs just like an ordinary self-charging electric hybrid, where the electric motor and gas engine alternate. In addition to these two car models, Sandvik Coromant employees as well as the public have access to KINTO's full range of cars available at the mobility stations in Stockholm, Gothenburg, and Malmö in Sweden.
The new mobility station is built on Sandvik Coromant ground at Mossvägen in Sandviken and can be reached by a short bus ride from the Sandviken center.
"It's amazing that Sandvik Coromant together with KINTO is so far ahead with this project, which will enable more people to start using hydrogen and electric cars. This is also in line with Sandviken municipality's project, called Pure Power, where we established one of Sweden's first hydrogen stations together with Sandvik in 2015," says Peter Kärnström, chairman of the Municipal Executive Board at Sandviken.