Published
November 28, 2018 - 05:30am

The Industrial Cafe & Saloon, 2572 NW Vaughn St # E, Portland, OR 97210
On Friday, Nov. 9, I had the pleasure to meet Russell K. Hubbard, president of Hubbard Construction Corp. in Portland, OR, and several of his friends at The Industrial Cafe & Saloon. Russ, as he prefers to be called, designed and built the building which is home to the Cafe on the "border" between Portland's "Nob Hill" neighborhood and a large industrial park containing many of Portland's manufacturing, fabrication and construction companies.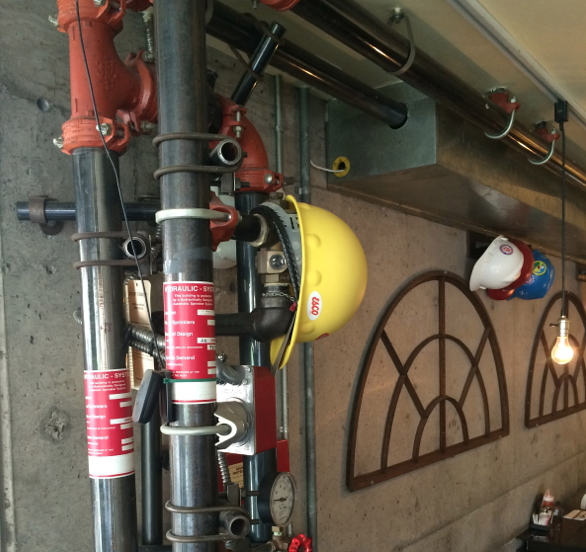 When the Portland Fire Department demanded a sprinkler system for a concrete and metal balcony Russ decided to display the system instead of hiding it - and guys like to look at mechanicals and it doubles as a place for your helmet
Joining us for lunch was Greg Madden, president of Madden Fabrication, and Charlie Martin, who is involved in lean manufacturing and is a very cheerful machinist from Liverpool.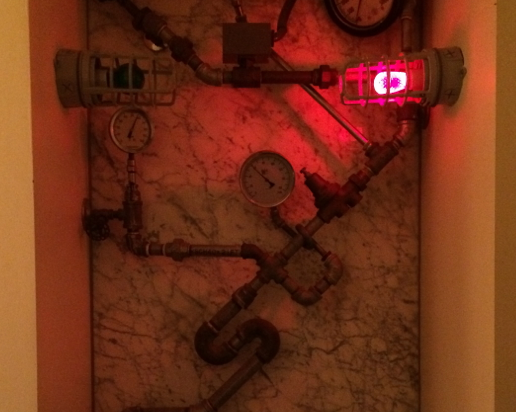 OK, this may sound weird - but it is Portland - the men's urinal is a darned work of art - behold.
The Industrial Cafe & Saloon is a cozy gathering place for unpretentious Portlanders, and attracts many of its customers from the men and women who work at companies in the industrial park — sometimes referred to as "Slabtown" — by offering pure comfort food in a relaxed environment with a very laid-back, friendly staff.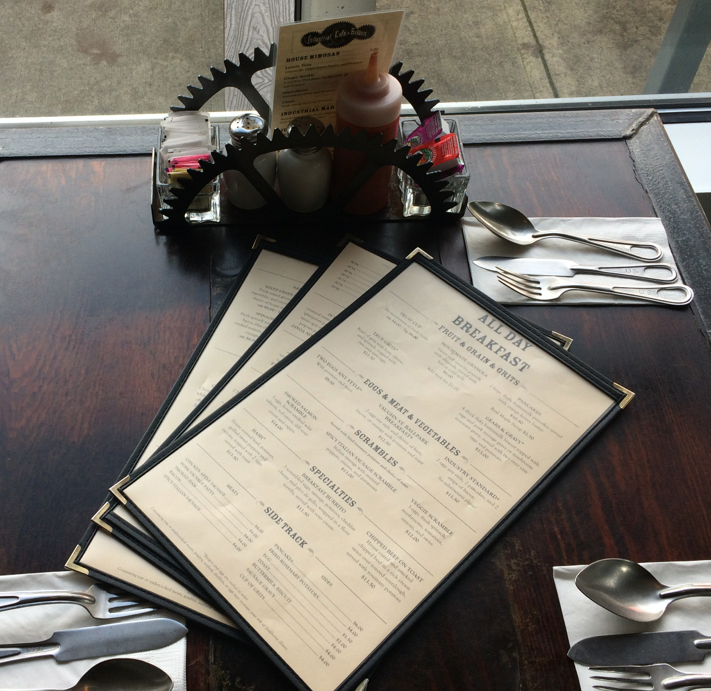 In addition to "industrial eye candy" one can sit by the window and people watch, one of Portland's favorite pastimes.
In 2004, Russ bought the lot directly across the street from Hubbard Construction and built a multi-level apartment building, reserving the first floor for the Industrial Cafe & Saloon so he and his buddies would have a place to eat and drink without having to drive anywhere — a very Portland priority. His son did all of the welding to create the environment that Russ designed and many of the large metal pieces were salvaged from industrial dumpsters by Russ himself.
His wife runs the restaurant, which serves All Day Breakfast and All Day Lunch and has been featured on Food Network's "Diners, Drive-Ins and Dives" in an episode called "Industrial Corned Beef Hash." I can testify that the food is hearty, fresh and very reasonably priced. Did I say delicious? Yes. Very.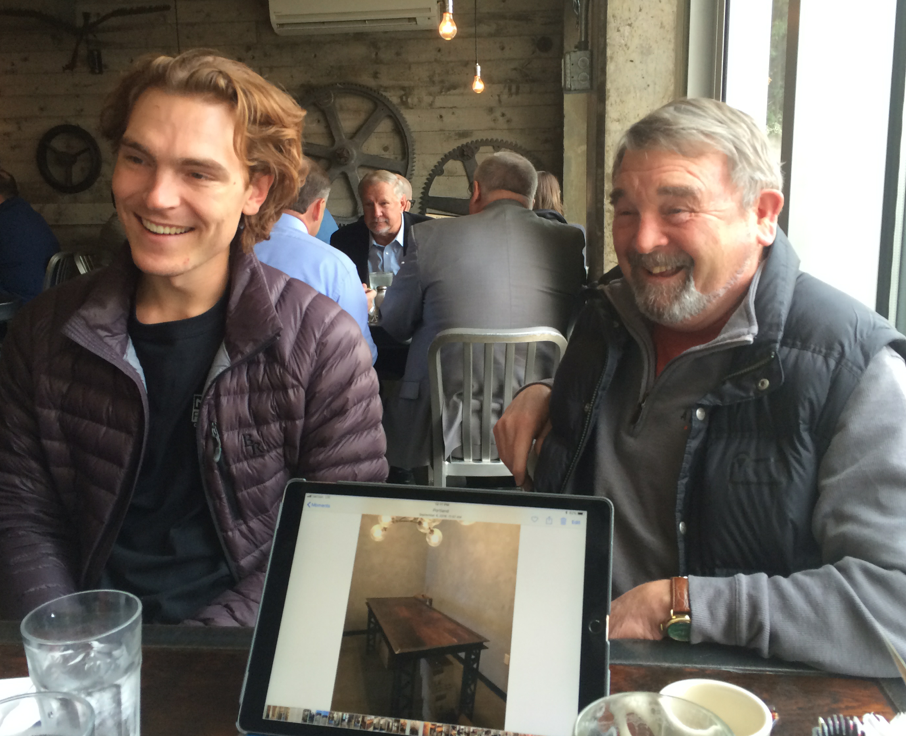 Ian Finn and Russ Hubbard, the creator of the Industrial Cafe, enjoying Charlie Martin's Cheshire Cat smile.
I had already heard of the Cafe from a very good friend of mine who works at the Pirate Bar on NW 21st Avenue. I'm told that her mother refuses to eat breakfast anywhere else when she is visiting her. Being a very early riser (I get up at 3am), I am always on the lookout for early morning breakfast joints.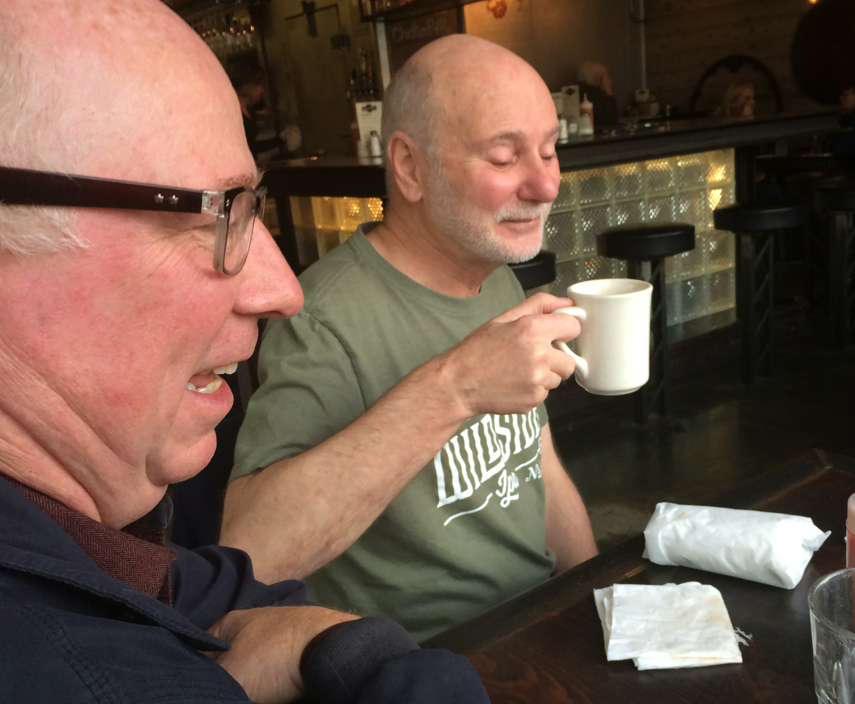 Greg Madden, Madden Fabrication and Charlie Martin — the Cheshire Cat of the Industrial Cafe, a guy impossible not to like.
But the Industrial Cafe is not the only creation from the mind of Russ. A frequent customer to the Cafe kept bugging Russ to design a similar "industrial chic" space in downtown Portland that Russ at first avoided. But the guy was so persistent that Russ finally gave in, and the result is the very interesting 40 Pounds Coffee Bar located at 824 SW 2nd Ave., Portland, OR, 97204.
The 40 Pounds Coffee Bar in downtown Portland has a different clientel but the space is all Russ Hubbard.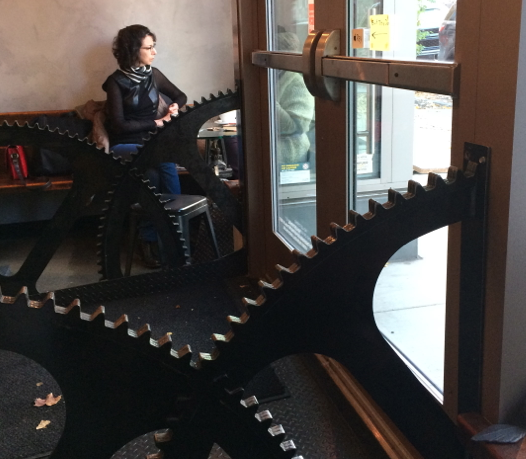 Who doesn't love a corner table by the window to people watch in a city with so many interesting individuals?
If you're ever in Portland, you should definitely check out the Industrial Cafe & Saloon — I know that I'll be back for breakfast and their excellent chicken pot pie.
All photographs by Conrad Hunter (c) 2018 Cutting Tool Engineering.
REFERENCES :
1.) The Industrial Cafe & Saloon - official site: https://www.industrialcafepdx.com/
2.) Food Network's "Industrial Corned Beef Hash" episode : https://www.foodnetwork.com/videos/industrial-corned-beef-hash-0225619
3.) 40 Pounds Coffee Bar: http://www.40lbscoffee.com/
Related Glossary Terms
lean manufacturing


lean manufacturing

Companywide culture of continuous improvement, waste reduction and minimal inventory as practiced by individuals in every aspect of the business.