Published
September 18, 2019 - 09:45am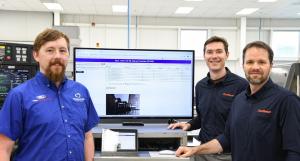 Article from ProShop USA Inc.
Engine development company Roush Yates Manufacturing Solutions (RYMS) will now use ProShop USA Inc.'s software to manage its advanced manufacturing shop. ProShop's comprehensive ERP software allows users to control every step in the manufacturing process, from pricing and inventory to inspection data and shipping documentation. The software is especially beneficial to AS 9100 and ISO 9001 certified facilities such as Roush Yates. Both companies are excited to enter this multiple-year partnership.
Mitch Miller, vice president of manufacturing at RYMS, said: "As we expanded into an 88,000 sq. ft. world-class facility with 50 CNC machines, it was important that we did things thoughtfully and with clear intention. We knew we needed a tool that could flex and scale as we grew and would be user friendly for our 50 plus employees to use throughout the plant. As we reviewed products and results, it was clear the best choice for our CNC manufacturing facility was ProShop."
ProShop Founder Paul Van Metre said: "To have an amazing and high-profile organization like Roush Yates Manufacturing Solutions choose ProShop is rewarding and humbling at the same time. We know that the lessons we learned about how to run a world-class paperless manufacturing operation and features we built into ProShop to achieve those goals will help RYMS take their world class facility to an even higher level. Their commitment to quality, exceptional customer service, their AS9100 requirements, and the high pressure and demanding nature of their business makes them a superb customer for ProShop's integrated ERP, QMS and MES functionality."
RYMS expects ProShop's cloud ERP manufacturing software to streamline its production and to keep its facility moving forward.
Related Glossary Terms
computer numerical control ( CNC)


computer numerical control ( CNC)

Microprocessor-based controller dedicated to a machine tool that permits the creation or modification of parts. Programmed numerical control activates the machine's servos and spindle drives and controls the various machining operations. See DNC, direct numerical control; NC, numerical control.