Published
August 29,2018 - 01:30pm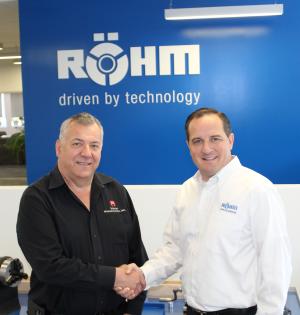 SUWANEE, Ga., August 20, 2018 — RÖHM Products of America Inc., has announced that it has acquired Master WorkHolding Inc. The acquisition enables RÖHM to combine its 100 years of workholding experience with Master WorkHolding's 30 years of experience to deliver a truly complete range of standard and custom workholding products and automation solutions for all CNC equipment.
"With Master WorkHolding joining the RÖHM team, we will be able to deliver even more comprehensive workholding and automation solutions," said Matthew Mayer, chief executive officer for RÖHM Products of America. "Both companies have prioritized helping manufacturers obtain quality solutions that maximize productivity and throughput, and this acquisition will make it even easier for our customers to obtain the highest levels of efficiency in turning, milling, grinding and robotic applications."
Established in North Carolina in 1988, Master WorkHolding has specialized in the design and manufacture of custom prismatic workholding for manufacturers across the continent and around the world. Following the acquisition, the company will serve as RÖHM's North American manufacturing entity and provide the company with prismatic clamping fixtures.
"This year marks Master WorkHolding's 30th anniversary, and we are thrilled to celebrate it with our merger with RÖHM," said Mike Powell, the company's founder and president. "Together, we will be able to provide custom and standard lines of stationary and rotating workholding and automation, offering our customers a complete range of solutions."
An active member of the Society of Manufacturing Technology (SME) and the Association of Manufacturing Technology (AMT), the latter of which he served as director, Powell has more than 40 years of experience as a strong supporter of the manufacturing industry. His company, which began as a two-man operation, is widely regarded as one of the premier workholding suppliers in the industry. Prior to the acquisition, the ISO 9001-2015-certified Master WorkHolding sold and delivered thousands of projects over the last 30 years.