Published
February 25,2016 - 06:00pm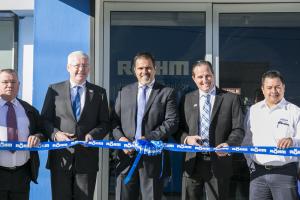 Röhm Products Mexico S. de R.L. de C.V., a subsidiary of Röhm GmbH, recently opened a new office in Monterrey, Mexico, in an effort to expand the company's sales, service and support capabilities to meet increasing demand for high-quality clamping and gripping technology throughout Mexico and Central America, the company reported in a Feb. 22 news release.
At a ribbon-cutting ceremonty held Feb. 11, machine tool and industrial dealers learned how the new office will enable them to better serve their diverse customers in a wide range of industries such as aerospace, automotive, energy and oil and gas. Röhm also provided general sales training on how to engage and influence existing customers, as well as acquire new ones.
"This new office positions us to grow our team that serves customers in Mexico and Central America and to more efficiently help local customers get the maximum return on their Röhm purchases," explained Rodolfo Espeleta, managing director of Röhm Products Mexico. He added that Monterrey is an ideal location for Röhm's new office because of its close proximity to the U.S. border and airport.
Röhm Products Mexico, which began operation in 2014, provides a comprehensive array of more than 15,000 products that includes chucks, centers, vices, tool clamping and automation systems as well as customized solutions for turning, milling, drilling and grinding.