Published
December 07, 2016 - 03:45am
For 10 years, FANUC Corp.'s highly accurate ROBONANO automated milling machines have been in use in Japan's semiconductor industry. Now the newest iteration of the machine is in the U.S. to help researchers studying emerging materials and manufacturing processes.
The ROBONANO α-0iB is a 5-axis machine that incorporates noncontact air bearings, which give it a wide range of configurations for cutting, scribing and milling. Boasting an accuracy of 1nm, it is—according to FANUC—two orders of magnitude more precise than most machine tools used in advanced manufacturing.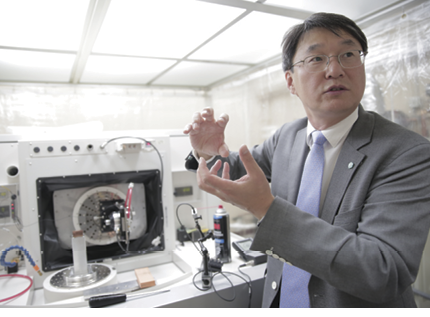 Sangkee Min, University of Wisconsin-Madison College of Engineering assistant professor, with the FANUC ROBONANO α-0iB. Image courtesy University of Wisconsin-Madison.

That prowess is being put to use at the University of Wisconsin-Madison College of Engineering, where it is newly housed in the laboratory of Sangkee Min, an assistant professor of mechanical engineering at the university. The machine is there on a multiple-year loan from FANUC. Officials from FANUC traveled from Japan for a Sept. 11 ribbon-cutting ceremony and open house for the ROBONANO.
Min will use the machine's capabilities to explore its suitability for manufacturing emerging materials, as well as currently available materials like synthetic sapphire, a shatter-proof alternative to glass for screens on devices such as smartphones. Synthetic sapphire is difficult to manufacture at a large scale because it is brittle and difficult to handle. However, Min has already conducted initial research on synthetic sapphire with a ROBONANO machine in Japan and discovered that the material sometimes is more ductile when handled at the nanoscale level.
"Many materials have different properties at the nanoscale that create all sorts of different possibilities that aren't possible [to take advantage of] with conventional machines," he said.
Min also hopes to explore how the machine can help open new possibilities for manufacturing design. Most designers are constrained by manufacturing limitations that can choke creativity and slow innovation, he noted. Min pointed to smartphone design as an example of a design-for-manufacturing paradigm leading to stale product lines.
"The design of the Apple iPhone has not changed very much since the first one," Min said. "It's the same for a lot of products. A Ford looks like a Ford."
That's because manufacturers have long-term investments in supply chains that are difficult and costly to switch on a dime, he said. The capital risk for changing a manufacturing process is often too high. Min hopes his research with the ROBONANO will identify ways to speed up the process and becomes one of the enabling technologies for a new manufacturing paradigm—what Min calls "manufacturing for design."
"The opportunities are almost limitless for improving products and manufacturing processes with this machine," Min said.
Related Glossary Terms
gang cutting ( milling)


gang cutting ( milling)

Machining with several cutters mounted on a single arbor, generally for simultaneous cutting.

milling


milling

Machining operation in which metal or other material is removed by applying power to a rotating cutter. In vertical milling, the cutting tool is mounted vertically on the spindle. In horizontal milling, the cutting tool is mounted horizontally, either directly on the spindle or on an arbor. Horizontal milling is further broken down into conventional milling, where the cutter rotates opposite the direction of feed, or "up" into the workpiece; and climb milling, where the cutter rotates in the direction of feed, or "down" into the workpiece. Milling operations include plane or surface milling, endmilling, facemilling, angle milling, form milling and profiling.