Published
November 16, 2015 - 06:00pm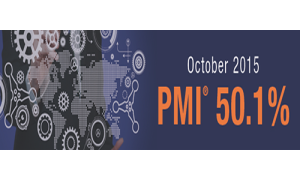 While the October 2015 Manufacturing ISM Report on Business showed continued growth, the report's overall PMI registered 50.1 percent, a slowdown from September's reading of 50.2 percent, reported the Institute for Supply Management (ISM).
But the report also noted that the October New Orders Index registered 52.9 percent, an increase of 2.8 percentage points from the reading of 50.1 percent in September. And the Ocotober Production Index registered 52.9 percent, beating September's reading of 51.8 percent.
Get more details from the ISM Report on Business for October 2015.