Published
September 13, 2022 - 06:00am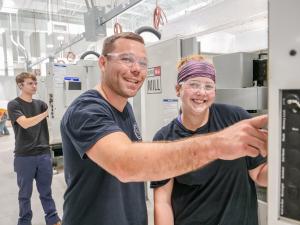 Renishaw attended the Haas Technical Education Community conference that was held from July 25 to 28 to further train the next generation of engineers.
Held at the TCAT Smyrna Campus in Smyrna, Tennessee this year, the HTEC CNC Educators Conference has been an annual event across North America since 2007.
The event brought technical teachers and trainers together to share expertise on the best practices for teaching CNC machining, automation, and metrology. With advancements in CNC technology, there are gaps between the classroom and the shop floor, Haas Automation, and Haas Factory Outlets work globally with local educational institutions to break down these barriers.
The four-day conference hosted teachers and lecturers from technical schools from across the USA, manufacturers who have Haas CNC machines, and anyone who delivers technical training. The attendees were able to take part in a variety of sessions including live demonstrations of machining, automation, and hybrid systems.
As one of the event's gold sponsors, Renishaw provided a range of opportunities for attendees. Its opening talk at the beginning of the conference shared the intended outcomes of its workshop — a 90-minute session and table that covered topics such as calibration, probing, and preventing inaccuracy. Other sponsors such as Autodesk, Mitutoyo, and more also provided technical workshops and talks, giving the attendees the choice to engage with the most relevant manufacturers in their industry.
"At Renishaw, we understand the importance of providing students with the right training for their desired career from the outset," explained Scotty Nicholson, Technical Training Manager for Renishaw. "Technology is advancing all the time, so starting as an engineer can be intimidating and it is vital that people pursuing careers in the industry are properly prepared for the equipment they will encounter. Increasing the quality of teaching will benefit the whole sector, so conferences like HTEC ensure we are producing the next generation of skilled and innovative engineers."
Renishaw continually supports the encouragement of students to pursue engineering, with a dedicated education outreach program and often partners with educational institutions to inspire the next generation of engineers and help them realize their talents.
Related Glossary Terms
calibration


calibration

Checking measuring instruments and devices against a master set to ensure that, over time, they have remained dimensionally stable and nominally accurate.

computer numerical control ( CNC)


computer numerical control ( CNC)

Microprocessor-based controller dedicated to a machine tool that permits the creation or modification of parts. Programmed numerical control activates the machine's servos and spindle drives and controls the various machining operations. See DNC, direct numerical control; NC, numerical control.

metrology


metrology

Science of measurement; the principles on which precision machining, quality control and inspection are based. See precision machining, measurement.