Published
November 17, 2017 - 02:45pm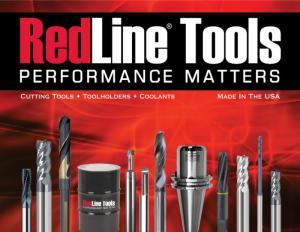 Over 26,000 RedLine Tools, Plymouth, Minn., items are now available through MachiningCloud Inc., Camarillo, Calif. RedLine Tools manufactures American-made cutting tools, toolholders and metalworking lubricants, and MachiningCloud is a product data provider for cutting tools, CNC machines and workholding. The RedLine Tools-MachiningCloud partnership utilizes the convenience of cloud-based technology, which enables customers to optimize the way they gather information for their manufacturing operations by searching for the cutting tool that best fits their cutting conditions without having to search through catalogs or multiple websites.
"The ability for RedLine Tools customers to find the right cutting tool quickly and reduce the time to assemble the optimum combination of tool components will enable them to improve accuracy in their work process," said Jessy Prevost, product manager at MachiningCloud.
"We are excited about MachiningCloud's unique concept of providing cloud-based, data-rich content. Our customers will have the ability to select cutting tools, build tool assemblies, access speed and feed data and download information to CAM systems. MachiningCloud will increase our customers' efficiencies and allow them to be more competitive," said Dan Podgorsek, product manager at RedLine Tools.