Published
February 02, 2017 - 01:45am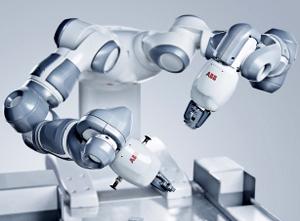 The North American robotics market broke all-time records for orders and shipments in 2016, according to the Robotic Industries Association (RIA), Ann Arbor, Mich. During the year, 34,606 robots valued at about $1.9 billion were ordered in North America, representing growth of 10 percent in units over 2015, RIA reported in a news release Jan. 31.
The automotive industry experienced a strong year, with orders growing 17 percent. Units shipped to North American customers also grew by 10 percent, with 30,875 robots valued at $1.8 billion shipped in 2016. Shipments into the automotive market grew 25 percent relative to 2015.
The fourth quarter of 2016 alone saw North American orders of 10,621 robots valued at $561 million, a growth rate of 18 percent in units ordered and 21 percent in revenue over the fourth quarter of 2015. Q4 shipments grew 33 percent on a unit basis with shipments of 8,825 robots valued at $494 million.
Orders for robots spiked 61 percent in assembly applications and increased 24 percent in spot welding. The food and consumer goods industry increased orders for robots by 32 percent in 2016. Robots in these industries can be used in a variety of functions, including improving food safety, performing repetitive primary packaging tasks such as bin picking, tray loading and bottle handling, and assisting with secondary packaging tasks such as case packing, bundling, bagging and palletizing.
The RIA is a member organization of the Association for Advancing Automation (A3). "Automation played a vital role in spurring economic growth in North American manufacturing and services industries in 2016," stated Jeff Burnstein, President of A3. "We anticipate accelerated growth based on smarter, more connected and more collaborative robots in the coming years."
Related Glossary Terms
arbor


arbor

Shaft used for rotary support in machining applications. In grinding, the spindle for mounting the wheel; in milling and other cutting operations, the shaft for mounting the cutter.

robotics


robotics

Discipline involving self-actuating and self-operating devices. Robots frequently imitate human capabilities, including the ability to manipulate physical objects while evaluating and reacting appropriately to various stimuli. See industrial robot; robot.

sawing machine ( saw)


sawing machine ( saw)

Machine designed to use a serrated-tooth blade to cut metal or other material. Comes in a wide variety of styles but takes one of four basic forms: hacksaw (a simple, rugged machine that uses a reciprocating motion to part metal or other material); cold or circular saw (powers a circular blade that cuts structural materials); bandsaw (runs an endless band; the two basic types are cutoff and contour band machines, which cut intricate contours and shapes); and abrasive cutoff saw (similar in appearance to the cold saw, but uses an abrasive disc that rotates at high speeds rather than a blade with serrated teeth).