Published
April 02, 2017 - 12:15pm
SME, Dearborn, Mich., a nonprofit organization that supports the manufacturing industry, along with its Composites Manufacturing Tech Group recognized an industry leader and a prominent composites manufacturing company with this year's 2017 Composites Manufacturing Awards.
Radius Engineering Inc., Salt Lake City, Utah, was recognized with the 2017 Excellence in Composites Manufacturing Award (small-company category) for supplying net-shape manufacturing technology and equipment contributing to improvements in design, quality and reduced manufacturing costs for numerous manufacturing companies throughout the aerospace composites industry.
Radius Engineering is the developer of SQRTM (Same Qualified Resin Transfer Molding), a closed molding method that combines liquid molding with the processing of prepreg plies to produce net-shape, composite parts without the need for an autoclave. Instead of using a dry fiber preform—as is used in traditional resin-transfer molding, prepreg plies are set up in the mold, and liquid resin is injected. Channels and gating within the tool allow air evacuation from the layup and ensure the injected resin stays at a uniform fluid pressure.
Radius Engineering president, CEO and co-founder Dimitrije Milovich received an award of his own: The 2017 J.H. "Jud" Hall Composites Manufacturing Award. He was recognized for his leadership and innovations in the composites industry over the past 40-plus-years as well as for the success of Radius Engineering. His innovations are being used by major aircraft manufacturers.
The awards were presented during SME's AeroDef Manufacturing event on March 8 in Fort Worth, Texas.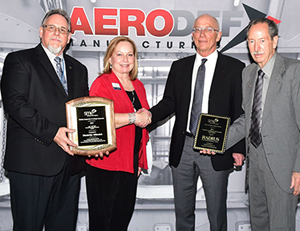 Related Glossary Terms
composites


composites

Materials composed of different elements, with one element normally embedded in another, held together by a compatible binder.