Published
December 23, 2020 - 06:00am
Quick-change tooling boosts company profits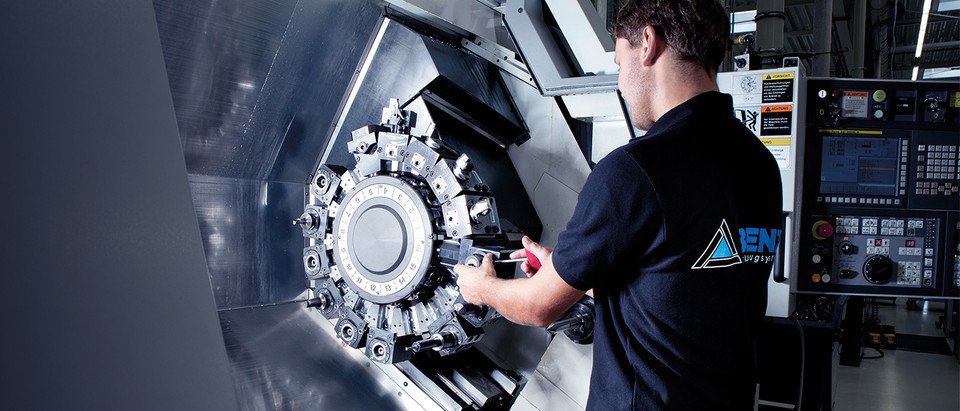 Many machine shops are losing tens of thousands of dollars in company profits each year by not implementing quick-change tooling on mills and lathes. Implementing this technology can easily reduce downtime an hour a day.
While many quick-change tooling is used on CNC turning centers, there are a lot of applications where quick-change tooling should also be considered for angle heads on machining center applications. General manufacturing, aerospace, defense, automotive and heavy equipment manufacturing all have the need for set-up reduction along with fast broken and worn tool replacement.
Quick-change tooling will determine the earning potential of a new machine because quick-change tooling can improve productivity resulting in increased production and higher company profits.
For instance, quick-change tooling can reduce set up times. Unless a company is running high production, a company can leave the tools mounted in the turret, and change only the preset adapters, set ups can be reduced by 1-2 hours.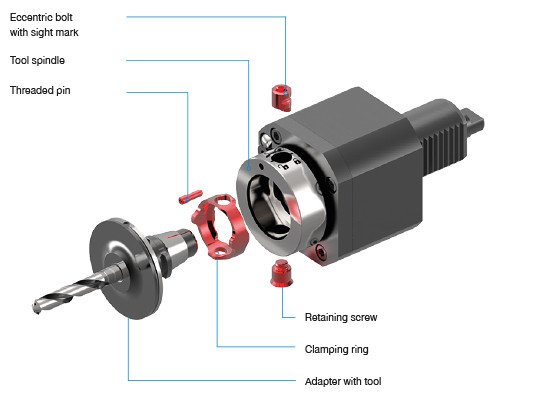 On low-production applications, the turret index time is not as important as set-up reduction. A company is most likely to finish the production run in less time than it takes to set-up the lathe. The focus must be set-up reduction.
In terms of fast broken and worn tool replacement, preset adapters can be replaced in 15 seconds instead of 3-10 minutes per tool. Tool presetting is done off the lathe saving 2 minutes per tool compared to using the lathe presetter. Tool replacement is often done by someone other than the operator. Downtime waiting on this person is time consuming and costly.
Static and live tools
In addition, quick-change applies to both static and live tools. Do not exclude the static tools when considering quick-change. Turning, threading, grooving and cutoff tools seldom change but do need inserts replaced. More common need for quick-change on static tools are the boring bars, reamers, drills and taps. They change with every set-up.
These devices lower the cost of tooling as you do not need tools with dedicated spindles. Tools with mill arbor, Weldon, whistle notch, different size and style of collet chucks, etc. are too costly to have on hand for usage once or twice a year.
The quick-change tooling provides safety to the turret. Manufactures say not to change the tool in the collet in the lathe in any position other than the driven position because it can cause damage to the inside of the turret. Quick-change lowers risk of maintenance, tools can be changed in any turret position as there are no forces passed to the tang to damage the inside of the turret.
It also provides safety to the operator. Adapters can be exchanged safely with one hand and there is no risk of a collet wrench slipping off the tool and the operator getting injured from adjacent tooling as the quick-change adapters are assembled and preset outside the lathe.
There is no risk of injury when the operator reaches into large lathes. Tools are heavy and reaching into large lathes to install the tool in the turret can cause the operator to lose balance creating a high risk for injury.
It also lowers the need for capital spending on additional machinery and allows a company to increase productivity on existing machinery first.
Most of the time operator safety, machine tool safety and lower capital spending are not talked about. Customers are surprised to find out these are additional advantages to purchasing quick-change tools. All three should be considered as they will greatly enhance the need and payback of the quick-change tooling.
Benz' Solidfix system
In 2012 BENZ introduced BENZ Solidfix a 15-second quick-change tooling system to be implemented with the company's live tools, static tools and angle heads. Solidfix can be quick-changed in the same time (15 seconds) as competing products for about 30% less.
To determine how much Solidfix quick-change can help a company can be answered with a cost justification worksheet and an App that can be downloaded to a phone to help customers understand savings derived from set-up reduction and worn or broken tool replacement. The savings calculated and the opportunity for increased production/profit showed the quick-change payback was less than 6 months, resulting in increased profits the first and every year thereafter.
Whether buying the quick-change tooling at the time of the lathe or angle head purchase, it is never too late to integrate quick-change tooling, and increase company profits!
Implementation of quick-change tooling will require some new procedures. Don't let this get in the way of your decision. This is not a choice; it is your profit we are talking about! Just like anything else, training and procedures are required to maximize your investment.
For more information on quick-change tooling, contact sales@benz-inc.com.