Published
February 29, 2016 - 06:00pm
Forklifts—the workhorses of the plant floor—are more valuable than ever at ITAMCO (Indiana Technology and Manufacturing Cos.). The Plymouth, Ind.-based manufacturer of gears and other precision components connected its forklifts to the Industrial Internet of Things (IIoT), which integrates machine tools and other manufacturing equipment with networked sensors and software.
After the company connected key pieces of machinery to MTConnect and its enterprise resource planning system, ITAMCO developed a mobile communications app for its forklifts, as well as its trucks and other vehicles that travel back and forth between the company's plants in Plymouth and nearby Argos.
Joel Neidig, lead technology developer at ITAMCO, explained that ITAMCO chose the open-source MTConnect communication standard as the platform's backbone to ensure all the data is the same. "Everybody will be able to communicate seamlessly because data is always translated into one language," he said.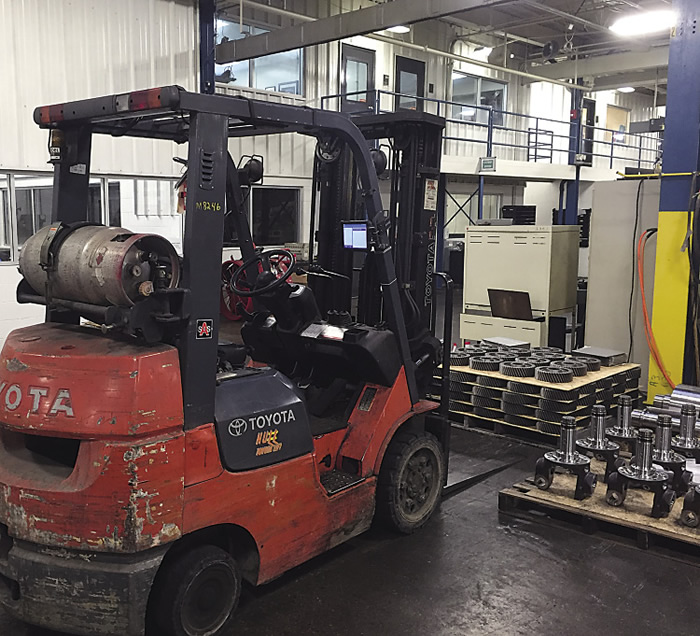 Each ITAMCO forklift is linked to the company's ERP system through GPS and an application on forklift-mounted tablets. Image courtesy ITAMCO.

Sensors on the forklift ignitions enable ITAMCO to know when they are turned off and when they are running, and the GPS on each vehicle enables the manufacturer to know where a vehicle is and where it is heading, he explained. As soon as a machine operator scans the bar code on a pallet, signifying the completion of the product cycle at that machine, a forklift is on its way to the machine. Forklift-mounted tablets enable the drivers to see the job information, and drivers are notified via their smart devices when they are needed. According to ITAMCO, the communication system is so efficient it will summon the closest forklift to the machine.
"We've seen a 10 percent reduction in the time it takes to get material ready for the next operation," Neidig said.
The same app used for the forklifts also connects with job costing on the ERP side. "We are trying to optimize everything and see what jobs are costing us the most, attack the problem jobs first and work our way through," Neidig said.
He added that ITAMCO developed a dashboard system to monitor equipment status and modified what was needed to integrate with the ERP system. "We basically purchase what we can and, if it's not available, we try to build it ourselves."