Published
September 07, 2023 - 08:30am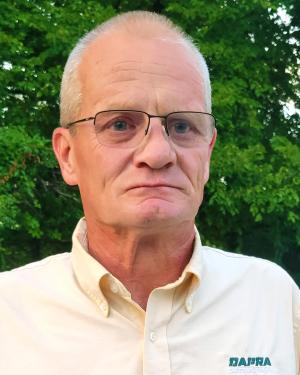 As part of its strategy for growth, Dapra Corp. has announced the addition and promotion of two employees.
The employees are:
Scott Clark has been promoted to National Applications Engineer, Lead. In this role, Clark will leverage his more than 35 years of experience in CNC machining to provide end customers and channel partners with application guidance and technical know-how on Dapra indexable milling product line.

His expertise will help customers realize process improvements, improved tooling performance, and increased profitability provided by Dapra's tools directly at the spindle.
 

Top: Scott Clark. Above: Chris Pratt.

Chris Pratt has joined the Dapra team as a Field Sales Coordinator. His responsibilities will focus on supporting the Sales Team Members (STM) to empower STM to exceed goals and objectives while maintaining Dapra's core values.

Pratt will make an impact by keeping STM in front of customers to offer the Dapra difference, prove the Dapra difference, and ensure a timely easy-to-do business process with a focus on customer satisfaction.
"We are excited for Scott's promotion and the addition of Chris to our team, as these roles are key to future growth," said Dapra VP of Sales & Marketing Jim Henning. "Scott excels at working side-by-side with our customers. He utilizes his expertise and practical know-how to ensure our customers maximize the performance and value of Dapra's tooling technology, delivering proven results time and again. Chris's many years in customer-facing roles will have a positive impact and further cement our commitment to an easy-to-do business experience for all current and future Dapra customers."
Dapra Corporation is a U.S.-based multi-generation family-owned provider of high-quality engineered solutions for various manufacturing environments. From milling solutions to permanent part marking equipment Dapra continues to develop and invest in solutions to empower the success of manufacturers across North America.
Related Glossary Terms
computer numerical control ( CNC)


computer numerical control ( CNC)

Microprocessor-based controller dedicated to a machine tool that permits the creation or modification of parts. Programmed numerical control activates the machine's servos and spindle drives and controls the various machining operations. See DNC, direct numerical control; NC, numerical control.

gang cutting ( milling)


gang cutting ( milling)

Machining with several cutters mounted on a single arbor, generally for simultaneous cutting.

milling


milling

Machining operation in which metal or other material is removed by applying power to a rotating cutter. In vertical milling, the cutting tool is mounted vertically on the spindle. In horizontal milling, the cutting tool is mounted horizontally, either directly on the spindle or on an arbor. Horizontal milling is further broken down into conventional milling, where the cutter rotates opposite the direction of feed, or "up" into the workpiece; and climb milling, where the cutter rotates in the direction of feed, or "down" into the workpiece. Milling operations include plane or surface milling, endmilling, facemilling, angle milling, form milling and profiling.