Published
September 14, 2017 - 02:45pm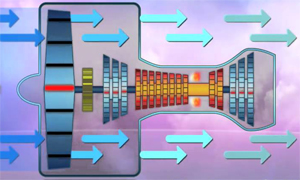 In spite of common misperceptions, not all manufacturing-industry jobs in Michigan are tied to the automotive industry. Not only are there medical-device manufacturers such as Kalamazoo's Stryker Corp. in the state, but also a number of thriving aerospace and defense industry suppliers as well. One of these is aero engine maker Pratt & Whitney's AutoAir plant in Lansing. The company announced today that a new fan blade manufacturing facility will be added to the plant.
The new 93,000 square-foot facility adds to an already existing PurePower Geared Turbofan (GTF) engine fan blade production line in Lansing and is one of 30 dedicated manufacturing, production or assembly locations across the globe performing work on various parts and components of the GTF engine program.
"Pratt & Whitney's $97 million investment in the production of fan blades for the GTF at our AutoAir facility is part of our more than $1.3 billion investment in 21st century manufacturing technology to transform our footprint worldwide," according to Shane Eddy, vice president, operations, at Pratt & Whitney. "This expansion is part of our strategy to handle delivery demands on our backlog of more than 8,000 firm and option engines on order."
"We are pleased to be a part of this successful engine program," stated Conor Tracy, general manager, Pratt & Whitney AutoAir. "The expansion of the Lansing plant is an opportunity for our employees to contribute to the future of the company, but it is also an exciting opportunity for Lansing to continue to participate in the advanced manufacturing sector and the economic growth of the region."
He added that there has been a tenfold ramp-up in a 20 month period and gives credit for this accomplishment to AutoAir employees. "We have increased our work force from just over 200 to almost 700 and growing. We have a highly skilled and professional work force with a lot of pride in the Michigan campus and pride in the GTF product."
In addition to GTF fan blade production, the Pratt & Whitney AutoAir facility is a center of excellence for test nacelle composite repairs. It has a long history of providing reliable overhaul and repair services for a broad range of composite parts and has earned quality and environmental stewardship awards. With its new capacity coming online, the company is on track to meet its commitments to deliver 350 to 400 GTF engines this year.
Jeff Smith, executive director, fan and externals module center, Pratt & Whitney AutoAir, noted that the manufacturing expansion in Lansing will enable the facility to triple its production capacity. "We are very proud of our ability to execute and look forward to being an integral part of the GTF production family."
Edited from information provided by Pratt & Whitney.