Published
August 27, 2015 - 07:00pm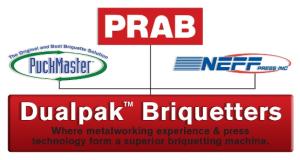 Industrial material handling equipment manufacturer PRAB Inc., Kalamazoo, Mich., has completed its purchase of Puckmaster Co., manufacturers of briquetting machines for metal compression and coolant collection.
"Metal prices are expected to remain fluid for the foreseeable future and the environmental and regulatory risk of transporting metal chips blended with spent coolant is notably more stringent and fines more costly," noted Ned Thompson, PRAB president and CEO. "Therefore, we will continue to recommend metal briquetting as risk mitigation and cost savings option to our customers. Puckmaster has earned a solid reputation for durable, long-lasting equipment, making the purchase a good fit with our company."
Previous Puckmaster owner, Charles Arnold, will work exclusively with PRAB as a factory authorized, full-line equipment representative. Arnold's company, American Material Handling Systems, will sell new Dualpak units and support existing Puckmaster customers in a select geographic region west of the Mississippi.
Related Glossary Terms
coolant


coolant

Fluid that reduces temperature buildup at the tool/workpiece interface during machining. Normally takes the form of a liquid such as soluble or chemical mixtures (semisynthetic, synthetic) but can be pressurized air or other gas. Because of water's ability to absorb great quantities of heat, it is widely used as a coolant and vehicle for various cutting compounds, with the water-to-compound ratio varying with the machining task. See cutting fluid; semisynthetic cutting fluid; soluble-oil cutting fluid; synthetic cutting fluid.