Published
September 02, 2020 - 09:45am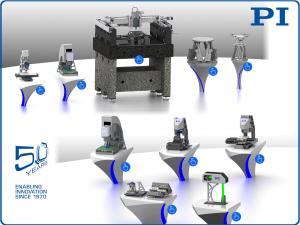 PI (Physik Instrumente) LP launched a virtual tradeshow on its website that showcases a full range of industrial automation, motion control, and laser material processing products.
The online trade show provides information for businesses that assemble products, manufacture semiconductors, laser process materials, inspect products systems, and more. According to PI, these companies demand systems that are robust and reliable, while delivering submicrometer accuracy, exact positioning reproducibility, and high throughput.
PI's virtual demonstrations explain how each system works and how the user benefits from its innovations. The various product sections feature videos, downloads, related products, application specific information and more.
In the laser processing section, PI explored a variety of its laser processing systems from inspection of large areas to laser welding of electronic components. The laser section specifically looks at: laser processing of high-density structures over large areas; high-precision laser processing for wafer dicing; industrial laser material processing; hermetic sealing of electronic components using laser welding; high dynamics focus shift for laser beam welding and cutting.
For instance, the XL SCAN method allows for processing of high-density structures over large areas such as laser drilling or laser marking of PCBs requires solutions that provide high precision and high throughput. The combination of multi-axis positioning systems with a highly dynamic galvanometer scanner can address the needs of industrial production. Utilizing the syncAXIS's simultaneous control of the PI XY stages and of the excelliSCAN galvanometer scan system, the XL SCAN method, allows continuous operation over large areas, therefore avoiding idle time and eliminating stitching errors. The ability to extend the field of view by the travel ranges of the stages has the advantage that the optics can be fixed and maintained in terms of accuracy, spot size and performance.
The precision industrial automation section looks at motion control equipment – mechanics and electronics. The position accuracy requirements and submicron accuracy requirements of these tasks can only be fulfilled when the mechanics, drive technology, and control electronics of the positioning system are perfectly matched to each other. Products outlined include: automated multi-channel fiber array alignment; tactile and optical testing of electronic devices; laser processing of high-density structures over large areas; motion simulation for qualifying gyroscopes; motion simulation for testing image stabilization.
Remote Live Demonstrations and Webinars
From the virtual trade show, visitors can also access a plethora of other information including webinars and submit requests for individual remote live demonstrations that are conducted by experienced application engineers.
PI's in-house engineered systems and components have enabled customers around the world to increase their productivity and technological advantage for five decades, the company says. With a large basis of standard precision motion products and proven methodologies, PI is in the position to quickly modify existing designs or provide a fully customized OEM solution to fit the exact requirements of your application from the whole motion range from finger-tip sized nano-positioners to large scale stages with long travel ranges, through a plethora of different drives and guiding systems.
PI (Physik Instrumente) LP, a worldwide supplier of precision motion technologies and laser processing solutions, can be reached at https://www.pi-usa.us/en/. The company's U.S. headquarters are in Auburn, MA, 508-832-3456.