Published
November 29,2016 - 03:45am
Related Glossary Terms
computer numerical control ( CNC)


computer numerical control ( CNC)

Microprocessor-based controller dedicated to a machine tool that permits the creation or modification of parts. Programmed numerical control activates the machine's servos and spindle drives and controls the various machining operations. See DNC, direct numerical control; NC, numerical control.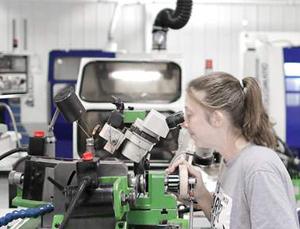 The Janesville, Wis., micromanufacturer Performance Micro Tool is part of a Janesville Gazette feature on local companies increasing their use of automation. The article notes that a recent source of revenue for the company is a tool contract with a company that makes the tiny housings in credit cards that hold those now-ubiquitous micro chips.
In "Automation Grows at Local Manufacturers," the Gazette reports that "because the movement to chip credit cards is tied to a government mandate, it's a large niche." The company's tools are also used in cunsumer electrontics and medical device manufacturing.
As the company grows--and it is reportedly considering tripling it's current 6,250 square-foot size--it has expanded its use of CNC machines and automation: "The company's production process requires programmable machinery that can maintain constant, nearly infallible accuracy from the start. Yet its tools must ship to customers honed with accuracy, which requires Performance Micro Tool to conduct human cross-checking under powerful microscopes."
"Automation is not something we do simply to reduce labor. It's a more a factor of consistency," [company president Dave] Burton said. "In fact, I treat (human) labor as a fixed cost. When things get slow, that's the time to put people on something you always say you need or want to do but haven't had time to do."