Published
April 21, 2015 - 07:00pm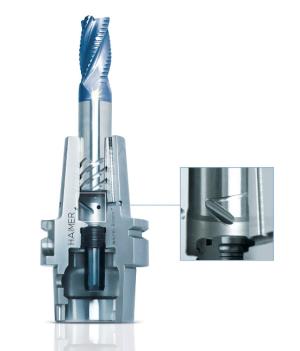 Toolmaker OSG Corp. and toolholding manufacturer Haimer GmbH signed a strategic partnership and licensing agreement in which the OSG-Group's round endmills will include Haimer's Safe-Lock system.
The Safe-Lock design in cutting tools and toolholders combines a press fit clamping with a positive form locking mechanism. This prevents round cutting tools from being rotated or completely pulled out from a toolholder during heavy machining, according to the company. The combination of symmetrical pull-out protection, high concentricity and excellent balance results in a vibration-free machining process, which the company said leads to a more efficient metal-removal rate when compared to conventional milling chucks or Weldon-shank cutting tools and toolholders.
"Our field testing proved that the combination of our endmills with Safe-Lock resulted in higher rpms and feed rates even with difficult-to-machine materials," explained Jiro Osawa, technical managing director at OSG headquarters and CEO for North America. "This enables our customers to obtain a significant increase in their current metal removal rates, while at the same time having a higher security in their machining processes. Safe-Lock also has a positive effect on tool wear."
"We have established Safe-Lock as a standard in roughing and heavy machining for which a variety of tools are available worldwide," said Andreas Haimer, president of the Haimer Group. "We are very proud and happy to have reached a strong partnership with OSG, one of the largest and leading producers of tools in the world."