Published
February 02, 2016 - 06:00pm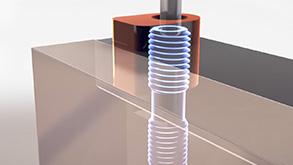 CARVEsmart, a division of Bellatex Industries and maker of the original quick-change vise jaw system featuring dovetailed jaw technology, announced a deal giving the Orange Vise Co. an exclusive opportunity to offer CARVEsmart patented features in the Orange Vise Integrated Jaw System (IJS).
With CARVEsmart dovetail and clamp features machined directly into the Orange IJS vise, there is no need for master jaws, which is said to save 1.5" of opening, according to a CARVEsmart news release issued Feb. 2.
"We are thrilled to be associated with such a fine maker of vises," said Doug Fontaine, national sales manager for CARVEsmart. "Establishing this relationship is a major step forward for the product lines of both companies. The best news is that sharing our technologies gives users a pathway to integrate the highest quality, fastest vise jaw system ... throughout their shop."
Added Eric Sun, founder of Orange Vise: "When we began to explore this opportunity it became clear that our two companies share the same business philosophies—superior products made from the best materials. Users will be thrilled with the simplified jaw changes and versatility CARVEsmart brings to the Orange IJS vise system."
The 6" Orange IJS vise accepts all CARVEsmart dovetailed jaws. The fully machineable jaws are said to result in a larger machineable workholding zone that permits holding larger parts deeper into the jaws of the vise for better performance.
Conventional face mounted cap screwed jaws also can be used on the 6" Orange IJS vise.
The clamp assembly of the CARVEsmart system pulls dovetailed jaws tightly into two axes, while a SMARTstop pin locates the jaw accurately in the third axis, which ensures relocation within +/-0.0003", according to CARVEsmart. The SMARTstop slot and pin is internal to the dovetail, allowing vises to be mounted side-by-side.
Extruded, aluminum dovetailed jaw stock is available in five profiles in lengths up to 94", and can be cut to any length the user requires. Steel options are 60/62rc hardened tool steel, 48/50rc A2 machineable tool steel, and 1018 steel. Specialty jaws are also available.