Published
December 07, 2016 - 03:45am
As useful and commonplace as robots are in manufacturing, buying one is rarely a one-stop shopping experience. However, robot manufacturer Universal Robots A/S has launched a new service, UR+, which may change the way robots are bought and sold.
The online, non-selling platform (www.universal-robots.com/plus) is a virtual showroom of plug-and-play application solutions, offering efficiency, security and the peace of mind that applications will run as intended from the start. This can saves weeks or even months during the integration process, according to the Odense, Denmark-based company.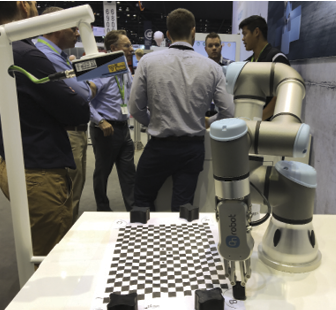 Sick showcases its portable, automated pick-and-place system at IMTS 2016, which the company hopes to have available at the UR+ platform in early 2017. Image courtesy Universal Robots.

"What we're doing is partnering with other companies to develop total solutions," said Phil Hollingsworth, Universal's senior technical support engineer, who's based at the UR's Irvine, Calif., office. "That way, a customer can buy the end effector and the software package at the same time as the robot. UR+ also has tools that help our customers choose the optimal robot and add-ons for their specific job and budget."
Partner-companies supply the end effectors. Minneapolis sensor manufacturer Sick Inc., for instance, showcased a portable, automated pick-and-place system at IMTS 2016, which it hopes to have available at the UR+ platform in early 2017.
"It's built around a UR robotic arm and a basic end-of-arm gripper, with a vision system capable of identifying part geometry and environmental context," explained James Anderson, national product manager for Sick. The arm was programmed to move a cube between opposite sides of a table, placing it precisely within a small square, with no tactile or proximity input. This type of collaboration among robot, tooling, software and sensor is a near-perfect example of what UR+ hopes to be."
"It's designed a little bit like an app store," said Douglas Peterson, general manager at Universal Robots, who's based at the Ann Arbor, Mich., office. "You can start with the type of robot you want or the type of work you need to do, then drill down to figure out the best tools to do it. The aim is to reduce implementation time for the end user and to cut costs for all parties—our customers, our distribution partners and the developer community."
A developer-oriented companion service called +YOU offers developers technical support free of charge, and their application prototypes are tested for quality, functionality and ease of use. In providing the platform for developers and displaying their solutions on UR+, Universal Robots aims to give a professional marketing platform to access the company's global customer network, according to Peterson.
Related Glossary Terms
arbor


arbor

Shaft used for rotary support in machining applications. In grinding, the spindle for mounting the wheel; in milling and other cutting operations, the shaft for mounting the cutter.

vision system


vision system

System in which information is extracted from visual sensors to allow machines to react to changes in the manufacturing process.