Published
April 16,2019 - 10:00am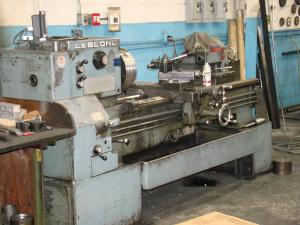 In response to my Lead Angle column in the April 2019 issue about machining large parts and my attraction to vintage machine tools, I received the following email from Chuck Oloffson, a CAD detailer and former CNC and manual machinist.
"I am just reading your article titled Machining Large in the April issue of CTE and the picture reminds me of the machines I ran at the Chicago Transit Authority's West Shop on Maypole Avenue. They had old, old lathes, a shaper and several other old machines that we used to machine tons of different things. One had a table that held a full section of railroad rail, which if I remember right was 39' long and we actually had to mill down the rail with hand-made tool steel cutting blocks to match the rail that we were connecting to in profile and height. Some of these rails we were replacing were produced in the 1920s and 1930s and were as hard and brittle as heck. There is nothing like a well-cared-for older machine. I could still hold some pretty tight tolerances with a machine that was over 70 years old and still worked great."
His email got me wondering about other metalworking professionals' past experiences and current applications with old machine tools. I still fondly recall the time I visited the machine shop run by Frank Foriska when touring the tool, mold and die shops in Meadville, Pennsylvania, to write an article for the February 2001 issue. At the time, he was still running belt-driven machines to perform general repair work.
If you have a story about old metalcutting machines that you'd like to share, I welcome hearing about it.