Published
July 11, 2021 - 10:45pm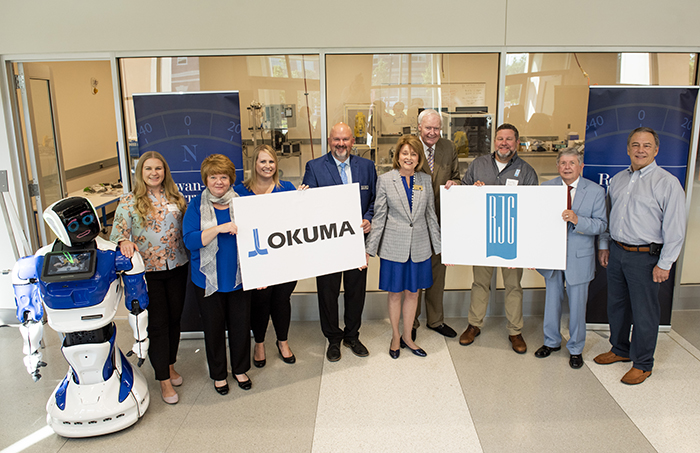 Okuma America Corp. and Rowan-Cabarrus Community College in North Carolina have partnered on a new training program.
The Okuma-Rowan-Cabarrus partnership will provide technical training to Okuma customers, distributors, and employees at the new Okuma Machine Tool Academy (OMTA) located within the College's Advanced Technology Center on the North Carolina Research Campus in Kannapolis, North Carolina.
The Okuma Machine Tool Academy is expected to house several Okuma flagship products, including an Okuma LB3000 EX II horizontal lathe and an Okuma GENOS M460V-5AX five-axis vertical machining center. Courses are planned to commence in October 2021 and will be offered in three focus areas: electrical maintenance, mechanical maintenance, and programming and operations. All courses will be led in-person by a full-time instructor, and online and hybrid course offerings will be made available in the future.

The Advanced Technology Center opened its doors in 2019 and is over 53,000 sq. ft. in size. It provides various classrooms, collaboration spaces and lounges for program participants to utilize. The Okuma Machine Tool Academy was built specifically for industrial machine tool training and is equipped with overhead utilities and six-inch level concrete floors to support flexible machine layouts and configurations.
For more information on training courses, visit okuma.com/training.
For information on Rowan-Cabarrus Community College, visit www.rccc.edu.
Related Glossary Terms
lathe


lathe

Turning machine capable of sawing, milling, grinding, gear-cutting, drilling, reaming, boring, threading, facing, chamfering, grooving, knurling, spinning, parting, necking, taper-cutting, and cam- and eccentric-cutting, as well as step- and straight-turning. Comes in a variety of forms, ranging from manual to semiautomatic to fully automatic, with major types being engine lathes, turning and contouring lathes, turret lathes and numerical-control lathes. The engine lathe consists of a headstock and spindle, tailstock, bed, carriage (complete with apron) and cross slides. Features include gear- (speed) and feed-selector levers, toolpost, compound rest, lead screw and reversing lead screw, threading dial and rapid-traverse lever. Special lathe types include through-the-spindle, camshaft and crankshaft, brake drum and rotor, spinning and gun-barrel machines. Toolroom and bench lathes are used for precision work; the former for tool-and-die work and similar tasks, the latter for small workpieces (instruments, watches), normally without a power feed. Models are typically designated according to their "swing," or the largest-diameter workpiece that can be rotated; bed length, or the distance between centers; and horsepower generated. See turning machine.

machining center


machining center

CNC machine tool capable of drilling, reaming, tapping, milling and boring. Normally comes with an automatic toolchanger. See automatic toolchanger.