Published
January 21, 2016 - 06:00pm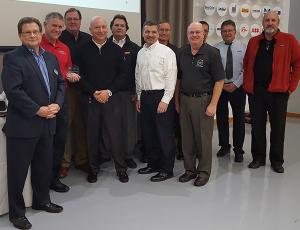 Okuma America Corp., Charlotte, N.C., recently named Caron Engineering its Partner of the Year, according to an Okuma news release issued Jan. 6.
Based on Okuma's annual distributor survey, Caron Engineering received the highest overall partner rating from among all 50 members of Okuma's Partners in THINC, which is a collaboration network of more than 40 industry leaders who come together to solve problems and explore new productivity ideas for real-world manufacturers. The annual distributor survey measures the effectiveness of partners and future potential success of the Partners in THINC network.
Caron Engineering, located in Wells, Maine, rated highest overall by earning the top spot in accessibility, service and support, innovation, functionality and value of service, Okuma reported. A member of Partners in THINC since 2007, Caron Engineering is a single-source provider of custom development, design and assembly of CNC software and technologies.
"Each year the partner council surveys all of Okuma's distributors to obtain their thoughts and impressions about each partner company," said Jeff Estes, director of Partners in THINC. "Since starting this survey in 2011, Caron Engineering has consistently been a top five company ... Caron's selection this year is a testament to their commitment to continuous improvement and remarkable customer service and support year after year."
The collaboration between Okuma and its distributors and partners is said to be the largest consortium in the machine tool industry.
Related Glossary Terms
computer numerical control ( CNC)


computer numerical control ( CNC)

Microprocessor-based controller dedicated to a machine tool that permits the creation or modification of parts. Programmed numerical control activates the machine's servos and spindle drives and controls the various machining operations. See DNC, direct numerical control; NC, numerical control.