Published
January 22, 2016 - 03:30pm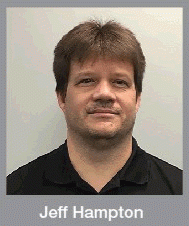 Okuma America Corp., a CNC machine tool manufacturer based in Charlotte, N.C., this month added three new members to its applications engineering team: Brad Fitzpatrick, Jeff Hampton and Lee Johnston, according to a company news release issued Jan. 13.
The trio will be responsible for demos, training, specification reviews, process developments and technical support for Okuma customers and distributors.
Brad Fitzpatrick, junior applications engineer, previously held positions in mechanical assembly, machine run-off, options installation, mechanical inspection, and sales and project management. His area of expertise is lathes.
Jeff Hampton, applications engineer, has more than 25 years of experience in the machine tool industry in set-up and operation, CAD/CAM programming, manufacturing and application engineering. Jeff's focus is on machining centers and their technologies.
Lee Johnston, senior applications engineer, specializes in 5-axis application. He has several years of CNC machining experience in the automotive industry and has held positions in machine repair, retrofits, design, PLC programming, technical support and technical writing.
"We are excited to have Brad, Jeff and Lee join the applications engineering team at Okuma," said Rod Tojdowski, Okuma's application engineering senior manager. "Their passion, combined experience and superior CNC machine tool skills are an asset to Okuma, our customers and distributors."
Related Glossary Terms
centers


centers

Cone-shaped pins that support a workpiece by one or two ends during machining. The centers fit into holes drilled in the workpiece ends. Centers that turn with the workpiece are called "live" centers; those that do not are called "dead" centers.

computer numerical control ( CNC)


computer numerical control ( CNC)

Microprocessor-based controller dedicated to a machine tool that permits the creation or modification of parts. Programmed numerical control activates the machine's servos and spindle drives and controls the various machining operations. See DNC, direct numerical control; NC, numerical control.