Published
January 22, 2022 - 11:00pm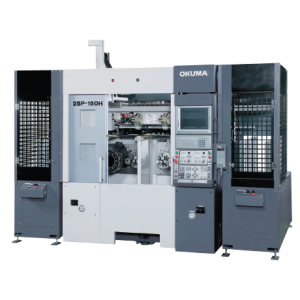 The leadership team of Okuma America Corp., a Charlotte-based builder of CNC machine tools, controls and automation systems, named Gosiger as its 2020 Okuma Distributor of the Year.
Gosiger co-owners, Pete Haley and John Haley, accepted the award at Okuma's Distributor meeting in November in Naples, Florida Gosiger is based in Dayton, Ohio, and has been an Okuma distributor partner since 1980.
"We are very honored and proud to be recognized as Okuma's Distributor of the Year," shared Gosiger co-owner Pete Haley. "We are deeply grateful to our employees and valued customers that made this recognition possible. Gosiger has been fortunate to represent and sell Okuma 'world class' machine tools for over forty years. Relationships like this are rare in our industry and greatly appreciated."
The Okuma Distributor of the Year Award was established to recognize a distributor partner for exceptional performance in the areas of selling and servicing Okuma products and services throughout a given year.
More specifically, the award criteria focuses on performance across many disciplines, including sales, operations, engineering, service, aftermarket parts, finance, marketing, HR and IT. An exemplified commitment to each of these areas is important in assisting Okuma in achieving its mission of passionately pursuing a customer for life.
"We are incredibly grateful for our lasting partnership with Gosiger," said Tim Thiessen, Vice President of Sales and Marketing, Okuma America Corporation. "They worked diligently to service customers throughout a uniquely challenging year and their efforts did not go unnoticed. We look forward to many more years of successful partnership with Gosiger."
For more information, visit www.gosiger.com.

Related Glossary Terms
Rockwell hardness number ( HR)


Rockwell hardness number ( HR)

Number derived from the net increase in the depth of impression as the load on the indenter is increased from a fixed minor load to a major load and then returned to the minor load. The Rockwell hardness number is always quoted with a scale symbol representing the indenter, load and dial used. Rockwell A scale is used in connection with carbide cutting tools. Rockwell B and C scales are used in connection with workpiece materials.

computer numerical control ( CNC)


computer numerical control ( CNC)

Microprocessor-based controller dedicated to a machine tool that permits the creation or modification of parts. Programmed numerical control activates the machine's servos and spindle drives and controls the various machining operations. See DNC, direct numerical control; NC, numerical control.