Published
June 19, 2020 - 05:00pm
Article by United Grinding North America Inc.
As a specialty toolmaker, Dew Tool Grinding Services Inc. always has relied heavily on the software of tool grinding machines. However, as those machines aged, the Oak Creek, Wis., shop realized that it needed the added functionality and capabilities of newer versions of tool grinding machine software to not only meet customer deliveries for more complex tools, but also to boost its overall competitiveness.
According to Operations Engineering Manager and part owner of Dew Tools Tim Kirst, the shop makes specialty cutting tools for valve and medical device manufacturers and job shops producing parts for companies such as John Deere and Caterpillar. The shop makes three types of cutting tools that include basic high-speed steel tools, carbide tools and carbide-tipped tools. In fact, Dew Tool is one of the few shops in its area making carbide-tipped tooling.
The shop is a long-time user and fan of WALTER tool grinding machines from Walter Maschinenbau GmbH, a member of the UNITED GRINDING Group, and purchased its first one in 1999 and another in 2006.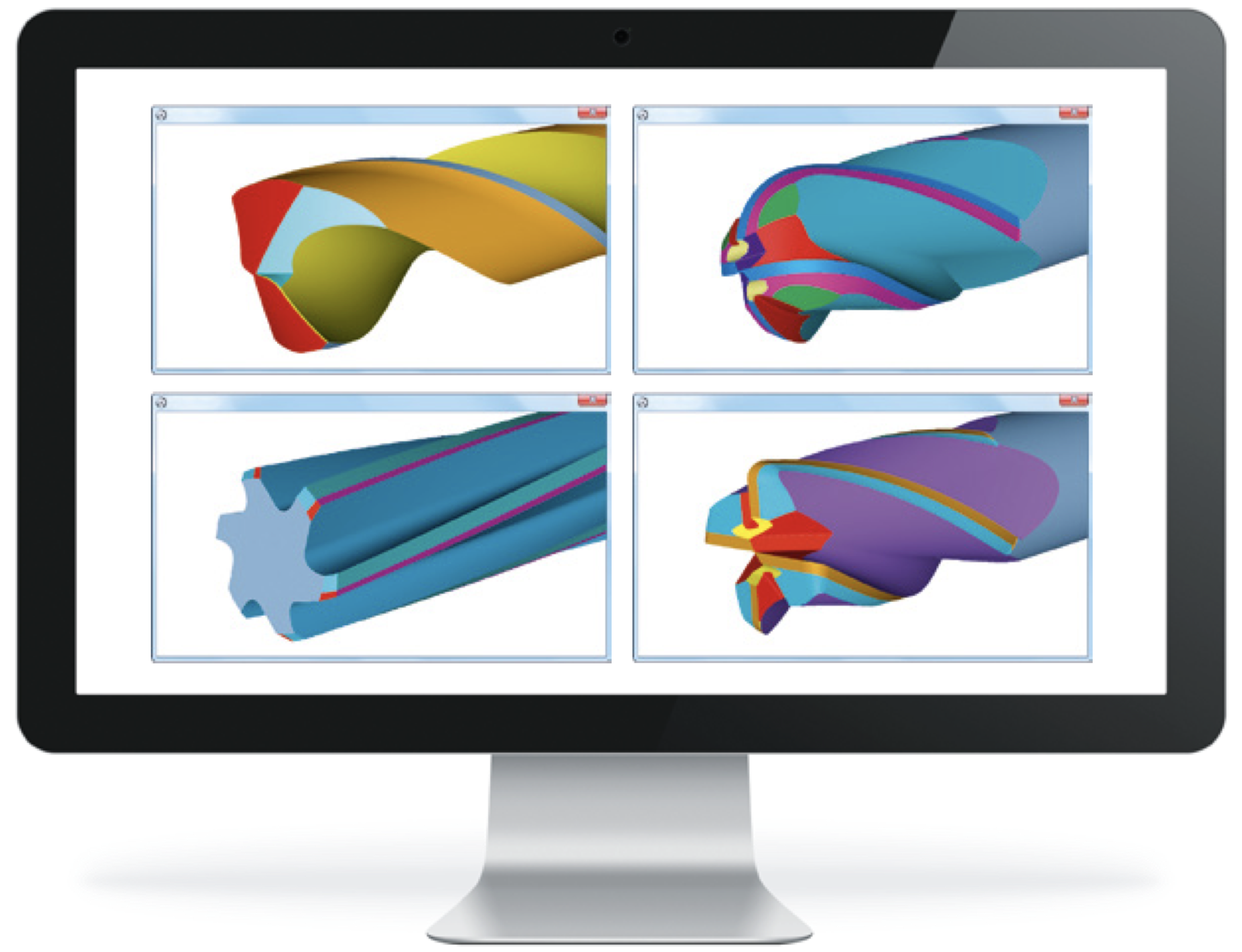 "WALTER machines are the best fit for what we do," explained Kirst. "We're not a big re-grind house. The business lies in more technical step tooling, and the software the WALTER machines come equipped with, even in 1999, is far better than that offered by other manufacturers' machines. But once we learned of the new HELITRONIC TOOL STUDIO software and all it could do, we knew it would provide us with the boost in efficiency, cost savings and speed we were looking for to be more competitive in today's manufacturing environment."
The HELITRONIC TOOL STUDIO, CAD/CAM software for design, programming, simulation and production came with Dew Tool's new WALTER HELITRONIC BASIC 5-axis machine. The extremely rigid, gantry design machine sharpens and grinds a wide spectrum of precision tools and offers complete machining in single clamping cycles. Its field of applications covers all rotationally symmetrical tools for machining metal as well as special tools and parts with complex geometries. And, according to Kirst, the machine and its software proved to be a game changer.
The software combines ease of programming with the greatest possible flexibility. With minimum complexity, Dew Tool operators can easily program machining steps and movement sequences for both rotationally symmetrical standard tools and specialty tools. In operation, the tool depicted on the machine's CNC display corresponds exactly with the tool being machined – a feature based off the tried and true method of "what you see is what you grind." This means that, as early as the design phase, Dew Tool can review the finished part via true-to-life 3D simulation. If necessary, the shop can make programming corrections before the machine's grinding wheel ever touches the part, saving time and money. It's a feature Kirst particularly finds most beneficial.
"The leap from Walter Window Mode, which was the software on the older machines, to HELITRONIC TOOL STUDIO has just been absolutely phenomenal," Kirst said. "Turnaround time means everything for our shop, and it was the one area that had, over the years, grown to be a challenge for us. With our new WALTER and its HELITRONIC TOOL STUDIO software, we've been able to speed up delivery from three or four weeks down to only two, allowing us to better compete. Our customers always knew they were getting a good custom tool from us, and now they're getting it faster, which is improving their experience. That's where I see the difference."
Although Kirst was a little apprehensive about a new software program, it didn't take very long for him to learn and discover all of its improvements.
"Being able to grind the tool virtually on screen, before we even put a wheel in motion, has already saved me countless dollars in wheels as well as in raw material," said Kirst. "We also saw immediate improvements in the quality of our tools because we know exactly where the wheel is going to go and what it's going to grind before we start. If I need to make three parts for a customer, I get three perfect parts. I no longer have to make four or five to get those perfect three."
Kirst also likes the ability to program and verify programs offline from a PC with HELITRONIC TOOL STUDIO, which is particularly important because of the complex parts the shop produces. This capability eliminates the need to stop after each operation, giving the shop more confidence in the accuracy of the tools being produced.
"With HELITRONIC TOOL STUDIO, we're able to program offline and transfer the program to the machine from a memory stick," he added. "That saves a lot of time, and it's usually correct with very little adjustment needed. Before HELITRONIC TOOL STUDIO, we had to be very cautious about how the machine was going to be set up and come in for the next grind. The accuracy with HELITRONIC TOOL STUDIO was a huge improvement in productivity for us."
Another feature of the software helping Kirst's shop be more productive is HELITRONIC TOOL STUDIO's Assistant, called Wizard, which provides common programming parameters that can be entered for standard tool families and Knowledge Base, which provides recommended speeds and feeds for different operations.
"These recommendations have also made a tremendous improvement because we're running a lot faster. Because of the way the new software is grinding drills, for example, and applying the recommended speeds and feeds, we've taken drill pointing from 15 minutes on our other machines to maybe four to five minutes on the new one," he said.
Additionally, the software has all but removed the shop's need for manual operations, saving money, improving quality and reducing time for other processes. The shop has also been able to adjust speeds and feeds – based on parameters from HELITRONIC TOOL STUDIO – to further boost the output of its older WALTER machines.
The new machine's efficiency and productivity also frees up some of Kirst's time, so he spends less of it in actual shop operations and more of it building his business. He's currently in discussions to secure more prototyping work from another local company, and, because the new WALTER has also added capacity to his operations, he is now working on expanding his client base within the Midwest and across the nation.
"Every time someone has to handle a part, it costs money," explained Kirst. "The new WALTER has allowed us to be more competitive with our pricing because, for some parts, we're looking at 15-20 minutes compared to an hour and 15 minutes, so the machine and its technology has made an impact on our bottom line by being faster, and, at the same time, allowing me to optimize my workforce."
Dew Tool opened for business in 1983 as a one-man shop and Kirst became part owner in 2000. He's spent his entire career in the machine shop business – he started right out of high school in an aerospace machine shop – and has seen a lot. One thing he's certain about is the importance of investing in the latest grinding technologies, and that includes software.
"It's just good business to keep up with the advances in modern manufacturing, from both a business success and customer experience perspective. UNITED GRINDING has been a long time trusted partner in helping us make that happen," he said.