Published
October 10, 2019 - 12:30pm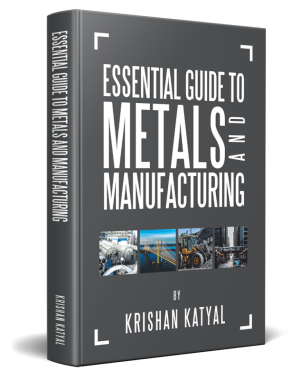 After a bit of a hiatus, I received a new book about metalworking, "Essential Guide to Metals and Manufacturing" by Krishan Katyal. The author is a mechanical engineer who has worked for four decades designing and manufacturing machine tools, consumer appliances, diesel-electric locomotives and heavy concrete construction products for Chicago area companies.
According to Katyal, the 324-page book is intended for people who are new to the manufacturing industry and want to learn and grow in the metal manufacturing business. His hope is that the subjects covered will help readers to develop a greater understanding of metals and manufacturing methods, as well as help them contribute and improve the companies they work for or own.
The 18 chapters in the book, which is published by Xlibris LLC, Bloomington, Indiana, provide basic overviews of the topics covered, beginning with the making of iron and steel. Some of the topics are about subjects that are typically not found in the pages of CTE, such as welding methods, plastics and shaping of materials, but there is plenty of information about CNC machine tools and metalcutting.
Each chapter begins with a list of the topics covered and then provides descriptions of each topic. Within or at the end of many of the topic sections is a list of equipment suppliers' websites readers can visit to gather additional information. In addition, the author includes "glimpses" from websites that highlight equipment specifications and product line overviews.
Katyal also includes brief summaries of various articles from trade magazines, including a number from Cutting Tool Engineering. He noted he was a CTE subscriber until 2009, and a couple of the CTE articles referenced were published before I even began working for the magazine in 2000. However, one summarized CTE article that I remember working on was "Turning the Big Stuff" by Bill Kennedy from June 2004. Several other CTE articles are noted in the references section.
Possibly my favorite sections of the book are the author's cutting tool, equipment and process sketches that appear at the end of the nearly all the chapters. Drawn in pencil, many of the 50 sketches even include erasure marks, which enhances rather than distracts from the detailed images and information.
Although I read the book from front to back, a reader can just as easily browse the chapters in a random order and adequately adsorb the material. With its host of definitions and process explanations, the book also can serve as a reference source.
One criticism is that the book would have benefited from having a professional copy editor go over it at least once before sending it to the printer to minimize the style variations that appear in the text. For example, I found it a bit distracting when a few words in a sentence, a random URL or even a period at the end of a sentence are underlined for no apparent emphasis.