Published
July 05, 2019 - 03:30pm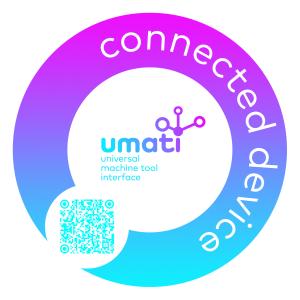 Article from VDW
umati - universal machine tool interface goes live at EMO Hannover 2019 from Sept. 16 to 21 with an exciting presentation. "Around 50 machine tool manufacturers from all over the world will be joining forces to show how umati makes machine data usable," says Dr. Alexander Broos, umati project manager and head of research and technology at the EMO organizer VDW (German Machine Tool Builders' Association). Trade show visitors will experience live the benefits the standardized interface offers.
"umati represents a quantum leap in the implementation of Industry 4.0 in production," explains Broos. "The use of a standardised interface will give machine tool users and their customers a whole new dimension of benefits." The networking of machines, systems and software is one of the most important trends in manufacturing. Customers expect to be able to integrate new machines into their own IT ecosystems with no difficulty. umati does this on the basis of the international interoperability standard OPC UA – easily, quickly and securely.
For over two years, a team of various machine tool manufacturers – today's core partners – have been working on developing this uniform language for machine tools. Together with control manufacturers, they aimed at making its use as user-friendly as possible. "The concept is so impressive that many international manufacturers, but also various associations and scientific institutions, have signalled an interest in participating in umati," reports Broos.
More than 50 companies from seven countries have currently registered for EMO Hannover, which will connect machines or value-added services as part of the live demonstration. Those are from Germany Adamos, Alfred H. Schütte, Axoom, Chiron-Werke, DMG Mori, DVS Technology Group, Elha-Maschinenbau Liemke, Emag, Gebr. Heller Maschinenfabrik, Grob-Werke, Heinrich Georg Maschinenfabrik, Index-Werke, IT Engineering Software Innovations, K.R. Pfiffner, Kapp, Liebherr-Verzahntechnik, MAG-IAS, Maschinenfabrik Berthold Hermle, Peiseler, Profiroll Technologies, Röders, Sauter Feinmechanik, Symmedia, Trumpf Werkzeugmaschinen, Leibniz University of Hanover - Institute of Manufacturing Technology and Machine Tools, Vollmer Werke; from Italy Guiseppe Giana; Orchestra; from Japan Citizen Machinery, Makino Milling Machine, Murata Machinery, Okuma Corp., Toshiba Machine and Yamazaki Mazak: from Austria: Emco Maier; from Switzerland Agathon, GF Machining Solutions, Precitrame, Tornos, United Grinding Group; from Spain Danobat, Ibarmina Innovatek, Nicolas Correa, Soraluce, Zayer; from Taiwan: Buffalo Machinery, Leadyang Precision Technology, Selica International.
The participants are supported by the most important control suppliers, which partly also connect machines or added value services at their booths: B&R Automation, Beckhoff Automation, Bosch Rexroth, Fagor Automation, FANUC, Heidenhain, Mitsubishi Electric and Siemens. The demonstration is realized in cooperation with T-Systems, who provides a data hub to connect machines and services.
The participants will be connected to a central dashboard. Furthermore, 18 software and data evaluation service providers will also be demonstrating how this data can then be used to generate added value for customers. Visitors can pick up information at the booths of the affiliated partners as well as at the central umati information booth in Hall 9, E24. This is where the data from the connected machines merges. Twice a day, at 10:30 and 14:30, the umati project team will invite visitors to meet the experts at the booth, where representatives of the core partners will report on their involvement in the project group and discuss various issues with the audience. Together with the OPC Foundation, the VDW is organising a focus topic on OPC UA in manufacturing technology on Sept. 17 in the Forum New Technologies, also in Hall 9. This will be rounded off with a Get Connected Event on the exhibition stand. On Sept. 20 , the Forum New Technologies will also be devoted to umati.