Published
January 17, 2016 - 06:00pm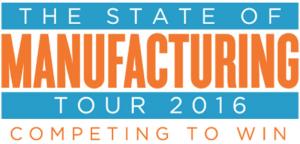 Jay Timmons, National Association of Manufacturers (NAM) president and CEO, will kick off the 2016 State of Manufacturing Tour on Jan. 28 at Saint Anselm College in Manchester, N.H. Joining Timmons will be Neil Levesque, executive director of the New Hampshire Institute of Politics and Political Library, and Jim Roche, president of the Business and Industry Association of New Hampshire.
"Timmons will showcase modern manufacturing, highlight the importance of manufacturing to America and lay out solutions that will create more jobs, seize global leadership and expand the circle of opportunity," according to a NAM news release issued Jan. 14. Timmons also will release NAM's new platform to guide manufacturing voters and candidates during the upcoming elections.
Manufacturing supports an estimated 18.5 million jobs in the United States and contributes $2.17 trillion to the economy, the news release observed. What's more, for every $1 spent in manufacturing, another $1.40 is added to the economy, the news release continued, noting that manufacturing accounts for the highest multiplier effect of any economic sector.
As part of the 2016 State of Manufacturing Tour, Timmons will visit with local manufacturers, employees, students, community leaders and elected officials across New Hampshire, Florida, South Carolina, Pennsylvania, Illinois, Texas and Maryland to discuss real-world solutions needed to allow the U.S. economy and manufacturers to thrive.