Published
April 16, 2018 - 05:00pm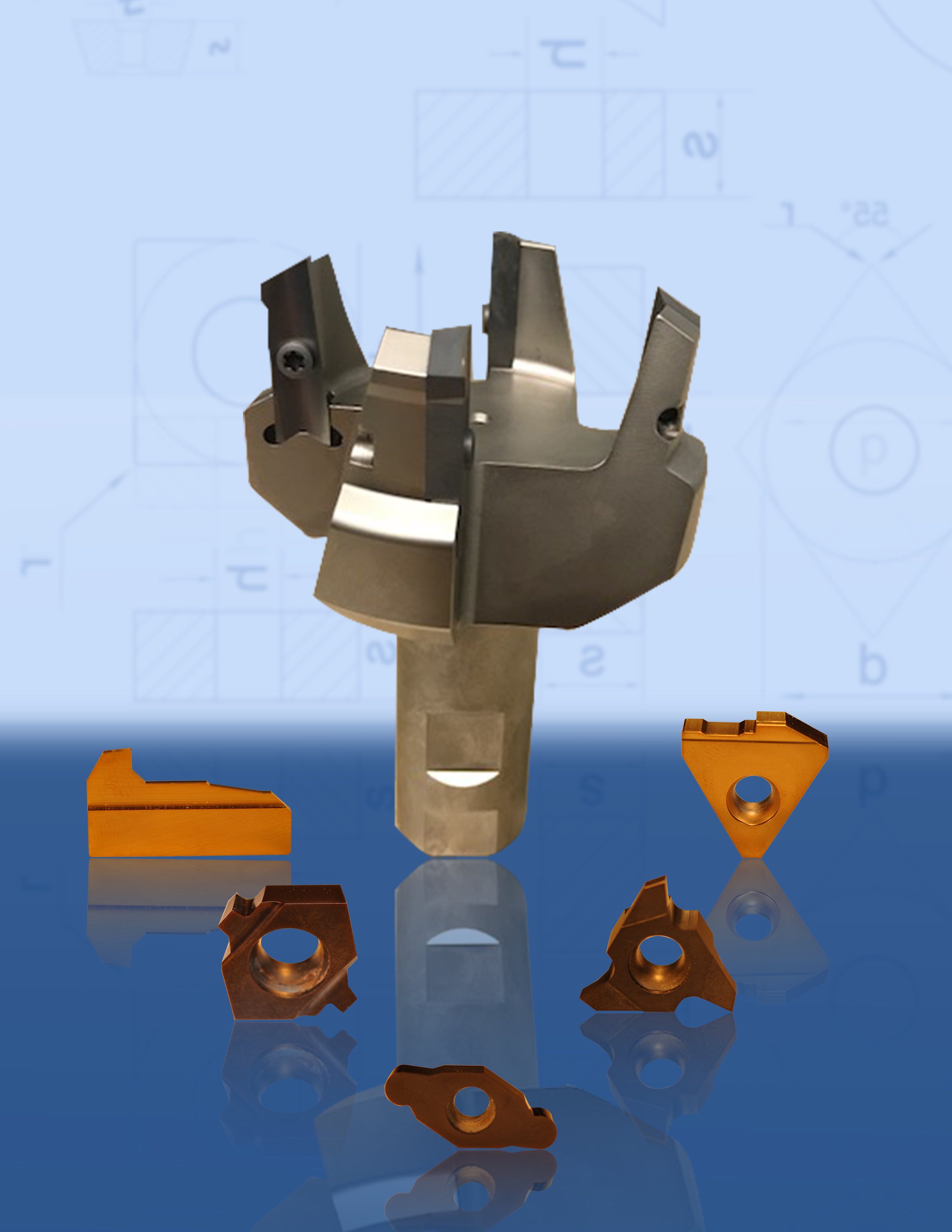 A custom toolholder and custom inserts. Image courtesy of Knight Carbide.
Long wait times? Extra costs? Too complicated? Bruce Kyle, president of toolmaker Knight Carbide Inc. in Chesterfield, Mich., wants to dispel myths about ordering custom carbide inserts.
He said misinformation frequently comes from asking an inappropriate source: a company that does not make specials. Instead, custom manufacturers are the ones that should be asked about specials.
"Myths exist because there are two kinds of cutting tool manufacturers—make to stock and make to order," he said. Kyle explained that a make-to-stock manufacturer focuses on what will work well for most people, while a custom manufacturer focuses on what will work best for a specific application. "There are very few people who do both well."
He said potential customers' inexperience is also a factor. "If they've never bought a custom product," he said, "they just don't understand the process."
Kyle pointed out three myths that are most in need of rejection.
1. Custom means longer wait times.
He said the only real delay is during the first order. "It may take a couple of weeks to get something as opposed to tomorrow," he said. "But after that, as long as you plan your purchasing and consumption, the manufacturer and distributor can stock these parts just like the ones you're buying now."
2. Custom costs extra money.
Kyle explained that some customizations—those that involve selecting nonstock grades, coatings or edge preps to optimize cutting conditions—usually do not significantly increase costs, but such customizations can substantially extend tool life. Changes to radius size, groove width and clearance angles also cost little to nothing, yet can eliminate many secondary operations.
"If you're building something from scratch, for example, to do multiple operations in one cut, yes, the tool may cost more," he said. "But then you're buying only one tool instead of three. If you have to design a new tool to eliminate operations or eliminate tool changes, it's really not more expensive." The biggest cost is inefficiencies in shops' production processes, he said.
3. Custom ordering is complicated.
As with wait times, Kyle said the only significant complexity comes with the initial order. Once the design is completed, every order afterward for that tool is the same as ordering any other product.
He encourages potential purchasers of specials to educate themselves on their options.
"The customer just needs to look at what their efficiencies are," he said. "Operators can usually identify what the biggest time killers are. If they can extend or eliminate a tool change or having to rough and finish certain cuts, what is going to be their increase in output?"
With 3D modeling and simulations, a lot of this analysis can be done before having to purchase tools and put them on the machine, Kyle explained. "There is a commitment in time to communicate the necessary information to customize your tooling. It is an investment that can provide significant savings in your production time."
Related Glossary Terms
clearance


clearance

Space provided behind a tool's land or relief to prevent rubbing and subsequent premature deterioration of the tool. See land; relief.

toolholder


toolholder

Secures a cutting tool during a machining operation. Basic types include block, cartridge, chuck, collet, fixed, modular, quick-change and rotating.