Published
January 05, 2021 - 05:15am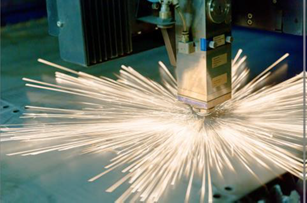 Lasers are used in a myriad number of applications to cut, drill, weld, mark, or structure parts in a wide variety of applications in many industrial sectors to optimize manufacturing processes and satisfy the need for ever increasing quality of components. As far as throughput and precision is concerned, laser power is usually not the limiting factor. Gains in productivity and quality come from high-performance positioning systems, motion controllers and software along with higher speed communication and synchronization between motion platforms, laser controllers, and beam steering units.
For instance, they are used for used to produce galvanometers, which are high-dynamics moving-coil motors. In modern galvo scanners, a low-inertia mirror is driven in closed loop, to position a laser beam with high speed, precision and repeatability. The combination of two galvo scanners inside one system allows steering the laser beam in two dimensions. Typical scan angles are in the range of ±20 degrees. This leads to good results with respect to dynamics and precision when, for example, dials are to be written onto functional components. Motion in the XY direction can be extended by a linear-motor-driven, cross-roller XY positioning stage.
EtherCAT Laser-Control Module and HMI
Tying motion and laser source together used to be complex, but a special EtherCat capable laser control module now allows direct control of the laser source increasing both precision and throughput.
EtherCAT is a modern, open, real-time Ethernet-based fieldbus system. EtherCAT is used by control and system engineers as a robust, high-speed, real-time network for machine control solutions. The flexibility of the fieldbus system, and the precise synchronization of all network devices, has helped EtherCAT to gain popularity on a global base. In high-performance applications, exact synchronization is a critical factor. The LCM EtherCAT slave module by ACS offers a broad range of functions, including digital pulse modulation for dynamic power control, output impulses or gating signals (on/off signals) that are synchronized to positions along a two- to six-dimensional motion path or programmable operation zones. ACS nodes are synchronized applying the EtherCAT Distributed Clocks (DC) mechanism supporting short cycle times – 1msec, 0.5msec, 0.25msec and 0.2msec (1, 2, 4 and 5 kHz).
The LCM module controls virtually any laser via universal electrical interfaces. In addition to the high-speed laser signal output, the module is also equipped with a special lock system, an error input, and an enable output. Eight digital I/Os are also available for laser specific functions. The challenges during development of a robust and scalable laser processing or micro-manufacturing machine platform can be solved much better and faster with this type of laser module. Good HMI platforms can provide further simplification. This particularly applies to optimizing the accuracy and repeatability of laser control for motion, and for developing the associated software. Machine developers, system integrators, and users benefit equally from this because it results in higher machine performance and reduced expenditure on development.
Scanning large areas and workpieces
Simple implementations of galvanometer scanners and positioning systems do not operate simultaneously, but sequentially, dividing large areas into smaller segments stitched together. Large areas with many small details cannot be marked efficiently in this way. Smaller details require high accelerations and large areas require longer travel ranges. A multi-stage approach is recommended, separating the trajectories for smaller, lighter, and therefore, faster positioning systems with shorter ranges, and for larger, heavier, and relatively slower motion components with longer travel ranges.
Basically, laser marking then functions in a similar way to human writing. The arm, as a slow musculoskeletal system, provides gross manual dexterity while the hand and fingers accurately form the individual letters, which corresponds to the motion of the galvanometer scanner. Analogous to this, the motion patterns from the X/Y stage and scanner are synchronized by a controller, and run simultaneously during scanning. This process allows efficient marking of large areas with many small details, and therefore, increases the throughput.
Because smaller laser beam deflection angles have a positive effect on optical errors, higher processing accuracy is achieved when compared to the traditional process; at the same time, stitching errors are also eliminated.
The combination of advanced motion controllers and highly accurate and dynamic positioning stages gives an edge to systems integrators and laser processing equipment manufacturers. Engineers, such as those at PI and ACS, are constantly working on better solutions, and can now offer world-class automation platforms that exceed current standards for quality and throughput.
For more information on Physik Instrumente L.P. phone 508-832-3456 or visit www.pi-usa.us.