Published
November 14, 2017 - 01:30pm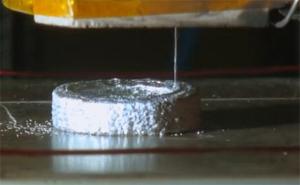 A novel 3D printing process that relies on melting aluminum wire and manipulating it with electromagnetism is no longer just another lab project. Vader Systems, which developed the process, has announced the first commercial sale of its signature Mk1 3D printer to Becker CAD-CAM-Cast, a tier-one supplier of engineered aluminum automotive components.
Vader's patented MagnetoJet technology melts metal wire and uses electromagnetic propulsion to produce on-demand, precision droplets of molten aluminum; the process allows parts to be formed at unprecedented rates and with reduced operational costs in comparison to powder bed processes. This highly cost-effective technology will make additive manufacturing affordable for an expanded market. VADER'S liquid metal process also provides safer operation and simplified material sourcing.
Because Vader's MagnetoJet technology uses standard aluminum wire, the Mk1 delivers a tenfold decrease in material costs; MagnetoJet also produces a dense part without the need for lengthy post-processing. Vader currently prints with 4043 aluminum, while 6061 and 7075 aluminum alloys, copper, and bronze are under development.
Zachary Vader, chief innovation officer and co-founder of Vader Systems, is also the inventor of MagnetoJet. He explains, "An important part of my vision in developing this technology was to impact the automotive industry. I'm thrilled that a company of Becker's caliber has recognized this potential and is choosing to integrate the Mk1 into their manufacturing process."
Scott Vader, the company's president and co-founder, adds, "We are excited that our liquid metal 3D printing process will be used to enhance the exceptional value Becker already delivers to its customers, and we look forward to a long and productive collaboration with the Becker team."
According to Becker CEO Michael Becker, "VADER'S printing technology is a game-changer for cost-effective, low-volume production of aluminum components. It aligns with our goal to deliver shorter lead times and higher performance for our customers." Becker will begin to integrate the Mk1 system into its manufacturing process at the company's new Wixom, Michigan, plant in the first quarter of 2018, with plans to add a second system at their Germany headquarters in late 2018.
Edited from information provided by Vader Systems LLC.
Related Glossary Terms
alloys


alloys

Substances having metallic properties and being composed of two or more chemical elements of which at least one is a metal.

aluminum alloys


aluminum alloys

Aluminum containing specified quantities of alloying elements added to obtain the necessary mechanical and physical properties. Aluminum alloys are divided into two categories: wrought compositions and casting compositions. Some compositions may contain up to 10 alloying elements, but only one or two are the main alloying elements, such as copper, manganese, silicon, magnesium, zinc or tin.

lapping compound( powder)


lapping compound( powder)

Light, abrasive material used for finishing a surface.