Published
December 19, 2016 - 10:15am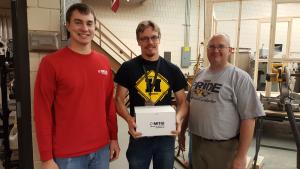 MITGI has been honored as a finalist for a 2017 Community Impact Award from Minnesota Business magazine in the Youth Initiative category. This award category recognizes companies for creating or supporting programs designed to enable youth to develop abilities in areas such as leadership, social responsibility, skilled trades, education and community involvement.
"Over the past decade, MITGI has dedicated company resources and employee talents to help students explore and prepare for careers in manufacturing," explained Eric Lipke, MITGI president. "We're proud of the collaborative environment that has developed in the Hutchinson community between Ridgewater College, Hutchinson Public Schools, Hutchison Area Chamber of Commerce, Hutchinson EDA and Made in McLeod manufacturers. These efforts have resulted in new curriculum and school facilities, increased enrollment in manufacturing related classes, alignment between students and local employers, and potential cost savings for graduates."
Recognizing the impact that new perspective and repositioned resources could have on the local community, MITGI has worked to build support by:
· Providing tours that showcase different types of facilities, work environments, and career opportunities
· Giving MITGI-sponsored scholarships to help students defray the costs of education and connect the business to the student
· Offering paid job shadowing and internships to provide practical work experience while exploring the types of jobs possible in manufacturing
· Participating in advisory boards to ensure that opportunities in education and business exist for students when they are ready to work
· Aligning business leaders and schools to create common goals and secure resources, including raising more than $1.2 million for Hutchinson High School
· Hosting meetings and tours with legislative leaders and staff, including Senators Klobuchar and Franken
· Promoting all of these activities and events to draw local, regional, statewide, and national exposure to the successes of these unprecedented local partnerships
"MITGI is proud to be a leader in the efforts to build the foundation for a thriving community and well-prepared workforce," describes Sheila Murphy, MITGI director of HR and safety. "We look forward to working within our community to help support and promote the continued growth of manufacturing."
The winners in each category will be announced at the 2017 Community Impact Awards event, held on Feb. 23, 2017, at Aria in Downtown Minneapolis. Each category winner will be featured in the March 2017 issue of Minnesota Business magazine.
Related Glossary Terms
Rockwell hardness number ( HR)


Rockwell hardness number ( HR)

Number derived from the net increase in the depth of impression as the load on the indenter is increased from a fixed minor load to a major load and then returned to the minor load. The Rockwell hardness number is always quoted with a scale symbol representing the indenter, load and dial used. Rockwell A scale is used in connection with carbide cutting tools. Rockwell B and C scales are used in connection with workpiece materials.