Published
October 12, 2014 - 07:00pm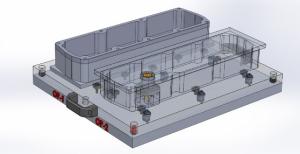 Mitee-Bite Products LLC., Center Ossipee, N.H., has expanded its customer service program. The company continues to assist customers with no-cost clamping recommendations and on-site visits through its national sales team, and now also offers workholding design services, from simple conceptual CAD drawings at no cost to top-level CAD designs ready to import into CAM software, which are part of the company's fee-based services. Mitee-Bite engineers work with customers to develop and build turnkey workholding designs at the company's Center Ossipee location.
In one example of this new service, Mitee-Bite delivered a custom workholding solution to a leading NASCAR race team that was machining valve covers from solid billets. Mitee-Bite assisted the team by developing a CAD layout of the fixture in SolidWorks, and sent it to the team to load in its programming software. The team then built the fixture.
The fixture is a quick-change pallet kit that incorporates Mitee-Bite Loc-Down clamps and two 0.5"-dia. diamond taper pins mounted to the fixture's subplate. The pins allow the fixture plate to be located and mounted on the subplate, creating a tight-tolerance fit. This allows multiple fixture plates to be mounted and quickly removed, which helps streamline the machining process. The pin-and-subplate assembly is used as a "receiver" for future applications.
In this machining application, the team uses a Mitee-Bite Pitbull clamp to grip 0.100" of the part, saving on the material needed to hold the part. In other applications, Pitbull clamps can grip as little as 0.075" of material.
According to Mitee-Bite, customers that use its services can maximize cutter engagement and reduce idle spindle time by changing parts offline while a machine is operating. For more information, contact Mitee-Bite Products at (800) 543-3580 or visit www.miteebite.com.
Related Glossary Terms
computer-aided design ( CAD)


computer-aided design ( CAD)

Product-design functions performed with the help of computers and special software.

computer-aided manufacturing ( CAM)


computer-aided manufacturing ( CAM)

Use of computers to control machining and manufacturing processes.

fixture


fixture

Device, often made in-house, that holds a specific workpiece. See jig; modular fixturing.