Published
September 28, 2015 - 02:00pm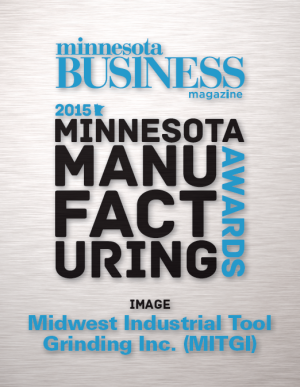 Midwest Industrial Tool Grinding Inc., Hutchinson, Minn., recently received the Image Award in the Minnesota Business Magazine2015 Manufacturing Awards. A two-time recipient, MITGI was recognized for work done to enhance the industry's image and the appeal of careers in manufacturing, according to a company news release.
"Some of the most important work that we do is to help to promote manufacturing and careers in the industry," explained Sheila Murphy, MITGI's director of human resources and safety. "By collaborating with area businesses and school partners, we're working to help students find the connection between their interests and talents to good-paying, readily available jobs in manufacturing."
Added MITGI President Eric Lipke: "Manufacturing is an essential component to the success of our local and statewide economy. By connecting students, parents, and schools to the greater manufacturing community, we can help show what modern manufacturing looks like and explore the kinds of careers that exist in the industry. We find that early exposure to manufacturing as a career path helps students to formulate plans for a productive future that benefits the whole community."
MITGI promotes manufacturing through:
Tours that help students and parents explore career opportunities;
MITGI-sponsored scholarships;
Paid job shadowing and internships;
Executive level participation in advisory boards, and
Leadership in regional manufacturing initiatives.
"At MITGI, these initiatives are led by dedicated, talented employees," observed Jennie Nelson, MITGI's director of sales and marketing. "We are grateful for the hard work they do each day; and are proud to support and promote manufacturing innovation in our community."
Related Glossary Terms
grinding


grinding

Machining operation in which material is removed from the workpiece by a powered abrasive wheel, stone, belt, paste, sheet, compound, slurry, etc. Takes various forms: surface grinding (creates flat and/or squared surfaces); cylindrical grinding (for external cylindrical and tapered shapes, fillets, undercuts, etc.); centerless grinding; chamfering; thread and form grinding; tool and cutter grinding; offhand grinding; lapping and polishing (grinding with extremely fine grits to create ultrasmooth surfaces); honing; and disc grinding.