Published
July 24, 2017 - 03:00pm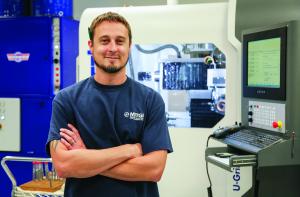 Midwest Industrial Tool Grinding Inc., Hutchinson, Minn., has been named a finalist in the Workforce Development Award category for the Minnesota Business 2017 Manufacturing Awards. The award recognizes a Minnesota-based manufacturing company for innovation and excellence in talent recruitment, efforts to retain employees and enhancing the image of the industry.
"In recent years, MITGI has experienced extraordinary growth, more than tripling the size of our facility and workforce," said General Manager Andrea Waller-Plath. "This rapid expansion created a big problem: The demand for machinists was higher than the pool of available applicants."
MITGI faced this problem in a new way and began a process of community engagement, simultaneously applying public relations strategies and building a coalition of business leaders and educators.
"Over the past year, MITGI employees have worked with area businesses, regional resources, schools and legislative leaders to align resources and focus on common workforce development goals," said President Eric Lipke. "We're seeing extraordinary results in our community: the development of a new high school structure and corresponding career path curriculum, increased enrollment in manufacturing-related classes and the development of job shadowing and internships as a regional standard practice."
"Manufacturing is a big part of our state and our local community," said Jennie Nelson, director of sales and marketing. "We're thrilled to be included as a finalist with other highly regarded companies who all believe strongly in the impact that manufacturing can have on our families, the economic outlook for our region and our position in the global economy."
Finalists in each category will be highlighted in the October issue of Minnesota Business magazine. Winners will be announced at the 2017 Manufacturing Awards event Sept. 28 at Aria in Minneapolis.
Related Glossary Terms
grinding


grinding

Machining operation in which material is removed from the workpiece by a powered abrasive wheel, stone, belt, paste, sheet, compound, slurry, etc. Takes various forms: surface grinding (creates flat and/or squared surfaces); cylindrical grinding (for external cylindrical and tapered shapes, fillets, undercuts, etc.); centerless grinding; chamfering; thread and form grinding; tool and cutter grinding; offhand grinding; lapping and polishing (grinding with extremely fine grits to create ultrasmooth surfaces); honing; and disc grinding.