Published
October 23, 2018 - 05:15pm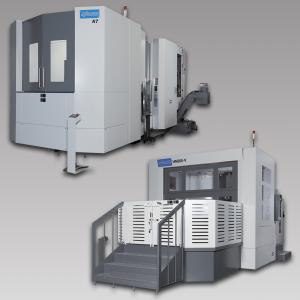 Sudbury, MA, U.S.A. (September 5, 2018) – Methods Machine Tools, Inc., a North American supplier of precision machine tools and automation, has announced it has entered into an agreement to represent Niigata Machine Techno USA, Inc. throughout the U.S., Canada and Mexico. Niigata manufactures horizontal machining centers (HMC), known for quality, reliability and innovation.
"We are very pleased to announce this partnership," said Jerry Rex, President and CEO of Methods Machine Tools, Inc. "The superior precision and dependability of the Niigata HMC line makes it an excellent addition to our high performance machining solutions."
"We look forward to having a long, mutually successful relationship with Methods," said Hans Retra of Niigata Machine Techno USA, Inc. "Methods' extensive distribution infrastructure, network of technology centers and applications expertise will help expand our brand in North America."
Niigata's highly precise, four and five axis HMC's and Boring Mills range from the heavy-duty, geared head, box-way HN and HN-D series to high production, roller guideway N7 and SPN series to the large work envelope, hybrid guide system, HN-S series. Machines that provide long reach quill / bar spindles and the ability to perform turning operations on large stationary parts (FC-Facing Center) are a hallmark of Niigata's HN-D series. Next size-up pallets, field expandable ATC and pallet magazine systems are available through-out the line. Niigata machines have a 25-year design life, are hand finished to be "naturally accurate" and are especially well known for large to oversize component machining.
The new Niigata N7 Model HMC has a stationary and ultra-rigid "Box in Box" column design, providing optimum cutting performance over the entire Y-axis stroke. The machine is equipped with the new 15" color LCD screen, new slant design spindle snout to facilitate use of shorter tools, a 3-point leveling base and ultra-rigid / high load roller guideway system for high speed productivity. A field-expandable ATC magazine and pallet system accommodates work load increases, enabling lights-out or minimally attended machining.
The HN-S Series from Niigata has the largest work envelope in its class (featuring a new HN800-S BAR), providing increased flexibility, productivity, and accuracy. A high rapid traverse rate and long axes strokes results in faster cut and non-cut times. A new hybrid guideway system has a large, ultra-rigid roller guide block on X and Z axes to optimize heavy-duty machining. The Y-axis has a hardened and ground box-way system to provide vibration dampening at the tool point, increasing accuracy and tool life.
For heavy-duty / low frequency machining, the box-way HN, HN V Guideway and HN DII Series feature super-high torque spindles and up to 126" max work swing diameter. High stiffness, geared head spindles are ideal for Titanium, Inconel and Hastelloy. Niigata HN-5X Five Axis Series HMC's offer a highly rigid, heavy-duty box-way design solution for 5-axis, high precision machining of complex parts found in a broad range of industries such as in aerospace, automotive, power generation, die/ mold and semiconductor. The 5-axis models offer low frequency machining of challenging materials such as high nickel alloys.
The extremely versatile, high rigidity HN-FC Facing Center Series, provide heavy-duty W-Axis and U-Axis spindles (combined) for long tool / long reach and large stationary part turning operations. The HN-BAR and HN-S-BAR Series configurations provide unique, application driven, 5.12" diameter bar / quill spindles in a true machining center format.
The Niigata SPN Series features a double box design and offers innovative T-shaped casting and a stationary column for accurate, consistent machining, including the SPN901 ‒ an 800 mm pallet workhorse for aerospace applications. Niigata solutions also include precise, versatile Horizontal Boring Mills for extra-large parts.