Published
October 21,2019 - 03:45pm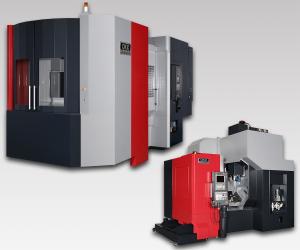 Methods Machine Tools Inc. has announced that it is representing OKK Corp. in North America. For over 100 years, customers worldwide have relied on OKK horizontal, vertical and 5-axis machines for quality, reliability, precision and innovation.
"We are very pleased to announce our new partnership with OKK to import, distribute and provide service and support for its broad range of high-quality machine tools," said Mark Wright, president and CEO of Methods Machine Tools. "The addition of the larger capacity line-up of OKK horizontal, vertical and 5-axis machines ideally complements our current machine solutions."
Takahiro Kawano, president of OKK USA Corp., said, "We are delighted to partner with Methods, whose reputation for service and machine integration is unsurpassed, and we look forward to a long, mutually rewarding partnership. Methods' established distribution organization, vast network of technology centers and dealers, and first-class applications expertise will help increase OKK presence in North America."
OKK machines have a rigid construction and versatile design, and offer over 60 models of horizontal, vertical and 5-axis machines to serve industries such as aerospace, automotive, energy, die/ mold and more. To ensure 100% quality control, OKK produces all key machine tool components in-house such as spindles, mechanical gears, precision square slide guideways and special controller features.
Powerful, dependable horizontal machining centers from OKK include the HM series, which provide easy access, maintenance and operation. The OKK HM series is offered in several sizes with Big Plus 50-taper spindle, and a high-speed rotation APC and ATC by synchronization cam (OKK patent), delivering smooth performance and production efficiency. The HM6000S is an all-new HMC that supports face mills up to 11.81" and features an extended rigid spindle that enables tools to reach to the back side of the work envelope. The OKK HM6000S has an X/Y/Z travel of 31.49" x 29.52" x 34.64". The HM1000S HMC has a rigid frame in a box-shaped structure to support large linear roller guides that handle very large loads, providing heavy duty cutting performance. It is a high-speed, durable machining center with a larger X/Y/Z travel of 55.12" x 43.31" x 39.37".
OKK VMCs are well positioned for aerospace, moldmaking and other demanding applications. The VM/R series, featuring large box-ways, high torque and high horsepower spindles, is designed for ultra-heavy duty cutting of titanium and other exotic materials. The VM/R series comprise of several models including the VM53R, which features increased rigidity in the main body and the spindle to provide high cutting performance. The VMCs have highly rigid and accurate box ways similar to traditional machining centers ‒ suitable for general parts machining as well as difficult-to-cut materials. The X/Y/Z travel is 41.34" x 20.87" x 20.08".
For reduced setup time and efficient operations when machining complex components, OKK 5-axis machining centers include several series of machines such as the HM-X HMC. The HM-X models have a 50-taper spindle with pre-tensioned, dual anchored core chilled ballscrews and massive linear cross roller guides for the feed system, as well as a rigid cast body, designed and proven for the most challenging exotic materials. The heavy-duty OKK HM-X6000 5-axis HMC features a new innovative trunnion table, and offers exceptional rigidity and accuracy with a large capacity X/Y/Z travel of 41.34" x 35.43" x 32.28", and travels on the A-axis of -20⁰ to 110⁰ and B-axis at 360⁰. Another 5-axis series, the VC-X vertical bridge-type machining centers, are based on the OKK high production VP series. A Big Plus 40-taper chilled spindle with high horsepower and large cross roller guideways are standard. The rigid OKK VC-X350 5-axis includes a 60-tool magazine, suitable for integration with an automatic workchanger and featuring a table that can handle titanium and other hard metals. The X/Y/Z travel is 23.62" x 16.93" x 18.11", and has travels on the A-axis of -120⁰ to 30⁰ and B-axis at 360⁰.
Methods is currently representing OKK in North America with the exception of: Alabama, Arkansas, Georgia, North Carolina, South Carolina, Tennessee, Wisconsin and Virginia.