Published
March 22, 2016 - 07:00pm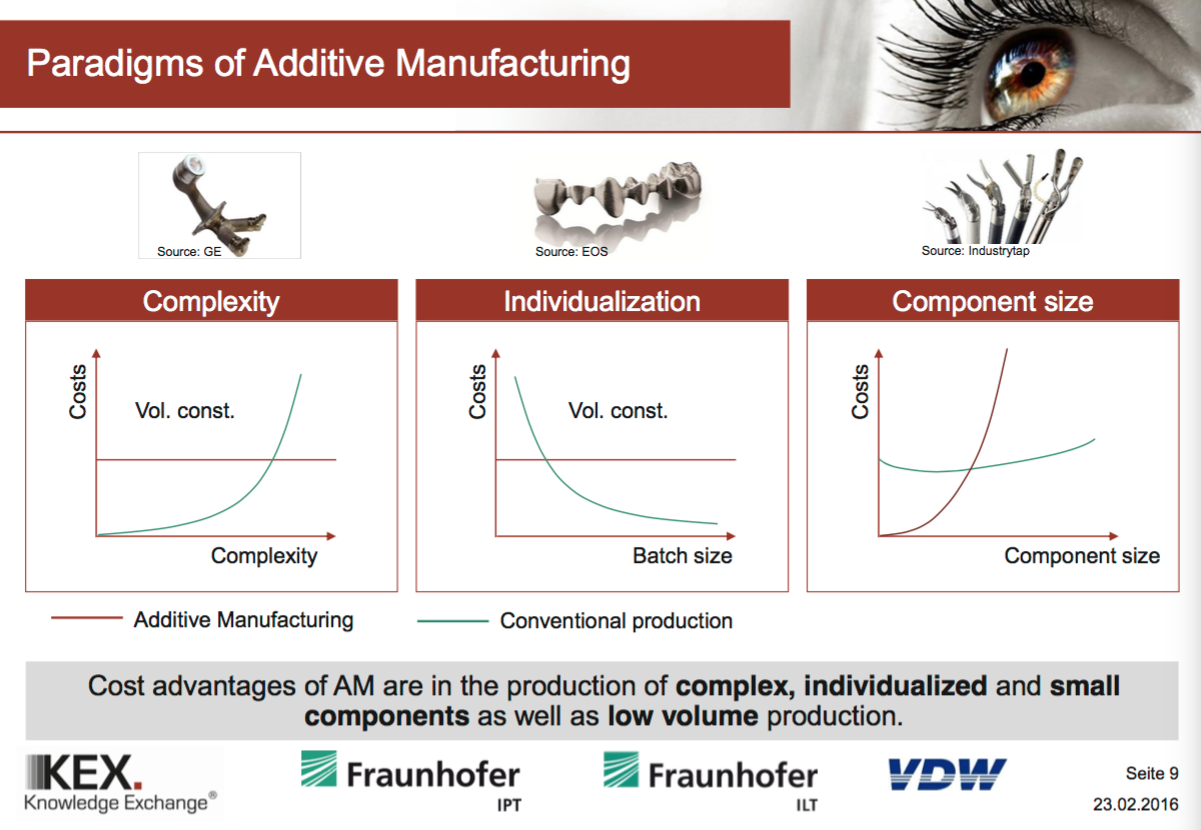 Additive manufacturing (AM) will neither displace existing machining processes nor revolutionize industrial production operations—at least not for the next 5 to 7 years, according to Myron Graw, an AM authority who spoke at METAV 2016, the 19th International Exhibition for Metalworking (Metallverarbeitung) Technologies.
Graw, who heads up AM operations at KEX Knowledge Exchange AG, in Aachen, Germany, wasn't just sharing his personal opinion. He was delivering the results of a five-stage AM study conducted by KEX, the Fraunhofer Institute for Production Technology and the Fraunhofer Institute for Laser Technology, according to a news release posted to the METAV 2016 website Feb. 23.
The study, titled "Additive Manufacturing: Opportunities and risks from the perspective of the German machine tool industry," focused on metalworking operations, and was commissioned by VDW, the German Machine Tool Builders' Association behind METAV 2016.
According to the METAV news release, the study included:
a market analysis for the development of additive processes,
a meta-analysis of existing studies and an assessment of current patent applications and research,
an assessment of the additive processes available for the metalworking sector,
case studies that examined the requirements and possibilities of AM, and
a prognosis for the development of relevant technologies in the upcoming 5 to 7 years.
"The most important result," according to METAV's website, "is this: assuming annual growth of 40 percent for additive processes, less than 1 percent of the existing technologies will be replaced by additive processes. This relates to the production volume of the international machine tool industry."
Overall, Graw said he expects "only minor shifts" in the production mix of the machine tool industry's future.
At least for the foreseeable future, cost and machining time are the major obstacles to an AM revolution, according to the study. For manufacturing large components, AM is hampered by disadvantages such as the cost of AM machinery and the high prices for metal powder material.
Graw added, however, that technolgoical advances and the upsizing of capacities in the coming years will mitigate such cost drivers, which he predicted would ultimately speed up the spread of AM.
Click here to download a PDF file format of the AM study slideshow presentation at METAV 2016.
Call to action
Graw concluded his presentation with a call for partners to join a consortium tasked with helping shape AM as a rising production paradigm.
Members of the consortium will:
help define their "roadmap and strategy within a highly dynamic technology field, which enables game-changing products and services,"
gain knowledge on all existing AM technologies and materials,
understand technological potentials and constraints within the most relevant target markets,
dig into the innovation patterns behind AM for products and production processes, and
network with cross-industrial players and experts.
The consortium, which kicks off April 27, 2016, intends to wrap up its work by January 2017. To learn more about the consortium, contact Graw via e-mail.
Related Glossary Terms
lapping compound( powder)


lapping compound( powder)

Light, abrasive material used for finishing a surface.

metalworking


metalworking

Any manufacturing process in which metal is processed or machined such that the workpiece is given a new shape. Broadly defined, the term includes processes such as design and layout, heat-treating, material handling and inspection.