Published
June 17, 2022 - 07:00am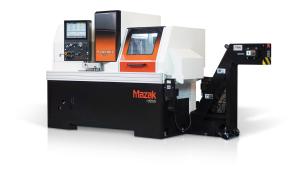 At the International Manufacturing Technology Show, Mazak Corp. will showcase 19 machines, many of which will be operated in real-world production demonstrations.
Mazak series of machines include the Ez, Integrex Multi-Tasking, the Syncrex Swiss-Style, and the NEO Series. Mazak also will feature automation systems, its MPower complete customer care program, and Mazak Capital Equipment Financing (MCEF) for factory-direct financing.
Mazak's Ez Series of machines includes turning centers and vertical machining centers with compact footprints and numerous options. At IMTS, Mazak will feature the QT-Ez 8MY Multi-Tasking CNC Turning Center with an 8" chuck and integral-motor spindle that handles a wide range of materials, along with milling capability and Y-axis functionality for single-setup processing of diverse parts. In live demonstrations, the automation-ready QT-Ez 8MY will pair up with a cobot to spotlight flexibility and productivity in unattended machining.
The Integrex Multi-Tasking machines transform complex part production with single-setup convenience and performance for advanced machining. They unify the processing power of multiple machine tools for DONE IN ONE efficiency that accommodates automation and unattended versatility. At IMTS, Mazak's Integrex i-450H ST Multi-Tasking Center will show how it delivers the combined processing power of a turning center and full-function machining center, with a second turning spindle and a lower turret with optional rotary tool capabilities to minimize fixtures, tools, handling and non-cut time.
Mazak's new Syncrex Series of Swiss-style machines come in four bar capacities ranging from 20-38mm. The machines are available in seven, eight, and nine-axis configurations. A nine-axis model with full B-axis contouring is also available. Syncrex machines feature Mazak's new Mazatrol SmoothSt CNC Control. Mazak Swiss Set-up Assist (MSSA) along with the Mazak Dynamic Chip Control (MDCC) features help reduce set-up times and part production.
Among the next-generation NEO Series machines at IMTS, Mazak will showcase the HCN-6800 NEO Horizontal Machining Center and the VARIAXIS i-800 NEO Machining Center that features upgrades to its spindle, table, and magazine including a new standard 43-tool drum-type magazine that reduces tool exchange times. For ease of maintenance, the machine incorporates hydraulic/motorized pallet changer mechanisms and an easier-to-access maintenance panel. A faster servo-driven ATC door design now also accommodates longer tools. As an option, Mazak offers a direct-drive motor table that ensures the fastest indexing time in its class and rotary scales for high-accuracy positioning.
The Variaxis i-800 NEO sports a powerful CNC, faster machining cycle times, expanded workpiece capacities, and more automation options. Equipped with Mazak's Mazatrol SmoothAi CNC, the machine provides functions that include the Smooth Machining Configuration (SMC) for process optimization with real-time operator control of a wide range of cutting parameters and Ai Thermal Shield for stable machining accuracy through smart compensation for heat displacement.
"IMTS 2022 brings manufacturing together for an unprecedented look at how our industry has advanced," said Dan Janka, president of Mazak Corporation. "We're excited to share our latest technologies, along with our commitment to customer excellence, in a celebration of productivity and performance."