Published
August 10, 2020 - 10:30am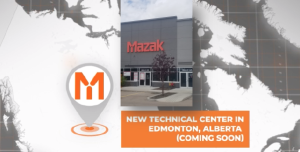 Mazak Corp. Canada plans to open a new Technical Center in Western Canada to provide local access to direct sales, service, application and training support, the company announced in a news release dated July 15. The new facility, which will be located in Edmonton, Alberta, is set to open in September.
In addition to Alberta, the Technical Center will support customers in Manitoba, Saskatchewan and British Columbia.
"While other companies tend to curtail investments when business is challenging, Mazak sees them as opportunities to provide customers a greater level of support so that they can compete more effectively and position themselves well for recovery," said Mazak Canada General Manager Ray Buxton. "It is difficult to provide the level of technical support that our customers deserve strictly from our Canadian Headquarters in Ontario. The addition of our new Western Canada Technical Center will provide customers with access to the essential technology and support they need to be productive and grow their businesses."
Measuring 7,200 sq-ft, the Edmonton Technical Center is split evenly between training and technology demonstration areas. The facility has a large presentation room for educational seminars and customer training. The demonstration area is being fully equipped with the latest Mazak technology for customer demonstrations and process prove outs.
Starting in September these will include the new VARIAXIS C-600 Vertical Machining Center, VTC 250D 50-taper Vertical Traveling Column Machine, QTN 450M Multi-Tasking Machine and the INTEGREX i-200ST full 5-axis Multi-Tasking Machine. The new facility will also showcase Mazak's MAZATROL Smooth CNC technology that allows for both conversational and EIA/ISO programming and Mazak's automation solutions for unmanned, lights-out production.
In addition to the capital investment, Mazak has also added a highly skilled sales and applications team headed by Bill Jaklin, Mazak's Western Canada Sales Manager. Jaklin and his team has extensive machining and machine tool backgrounds ideally suited to assist customers in machine selection and process analysis.
Related Glossary Terms
computer numerical control ( CNC)


computer numerical control ( CNC)

Microprocessor-based controller dedicated to a machine tool that permits the creation or modification of parts. Programmed numerical control activates the machine's servos and spindle drives and controls the various machining operations. See DNC, direct numerical control; NC, numerical control.

machining center


machining center

CNC machine tool capable of drilling, reaming, tapping, milling and boring. Normally comes with an automatic toolchanger. See automatic toolchanger.

recovery


recovery

Reduction or removal of workhardening effects, without motion of large-angle grain boundaries.