Published
May 08, 2018 - 09:15am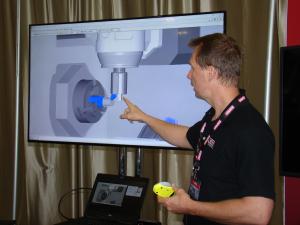 Florence, Ky.-based Mazak Corp. hosted the Midwest Technology + Education Event May 1-3 at its Midwest Regional Headquarters and Technology Center in Schaumburg, Ill. The machine tool builder exhibited and demonstrated an array of equipment, including milling, turning, 5-axis and multitask machines, and nine of the company's Value Inspired Partners exhibited at the event.
In addition, Mazak personnel provided seminars in the facility's main presentation room, and a selection of exhibitors offered presentations in four "knowledge zones." One of the latter presentations was "Internet of Things Now Drives the Shop Floor" by Vytas Cijunelis, Midwest manager for DP Technology Corp. The Camarillo, Calif., company is the developer of ESPRIT CAD/CAM software.
He said the industrial internet of things is actually the markets of things. IIoT forms partnerships to build the next industrial revolution—Industry 4.0—and keeps end users from having to build all the needed manufacturing solutions themselves.
One element of Industry 4.0 is advanced machine awareness, Cijunelis said. With the appropriate software, this knowledge allows parts manufacturers to calculate multiple-axis toolpaths that account for machine tool kinematics and limits to prevent possible issues that are visible only during machining simulation or actual machining. Those issues include unwinding, over-travels and collisions. Rather than provide a warning about a problem, issues are solved automatically.
The desired result is a consistency between upstream virtual processing and machine behavior, he added. "Bring the distance from virtual to reality as close as possible," Cijunelis said.
He said tightening that distance requires a digital twin of the machining environment that is highly accurate. If it's not accurate, the digital twin offers no value.
Ultimately, users need confidence in the simulation to run an optimized machining program. "Where the rubber meets the road is the NC code," Cijunelis said.