Published
August 09, 2021 - 10:30pm

Longtime Mazak distributors Smith Machinery and Action Machinery have closed on an acquisition agreement in which Smith Machinery transitions to Smith Machinery Corp. LLC and joins the Action Machinery group.
With Mazak at its core, Action Machinery International Inc. serves both metal-cutting and fabrication customers in the Rocky Mountain region.
Clark Smith, owner of Smith Machinery, will stay on at Smith Machinery Company LLC for several months during the ownership transition.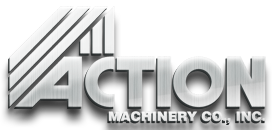 Tom Weaver of Action Machinery will assume responsibilities for day-to-day operations as the general manager of Smith Machinery Co. LLC. Randy Breitenbach, president of Action Machinery, will take an active role in financial management and leadership.
Action Machinery has long-standing relationships with equipment builders such as Mazak Corp., Mazak Optonics, Accurpress Press Brakes, Omax Corp., Davi, Messer Cutting Systems, and Amada-Marvel.
For more information on Mazak's products and solutions, visit www.MazakUSA.com.