Published
July 06, 2022 - 07:00am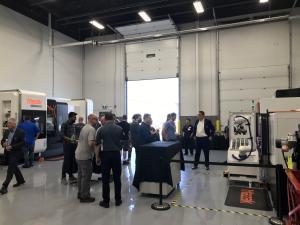 Canadian manufacturers in Edmonton, Alberta, and Cambridge, Ontario, got to see the latest in automation-ready machines, artificial intelligence, and industry 4.0 technology software from Mazak Canada.
At both open house events, Mazak showcased its Done in One part production concept and advanced Industry 4.0 technology software, along with CNC controls that use Artificial Intelligence (AI).
The Done in One concept incorporates all processes from raw materials input through final machining in just one machine. The concept offers manufacturers maximum productivity, reduces production lead times, improves accuracy, and lowers operating expenses.
With combatting the skilled labor shortage in mind, Mazak showcased automation-ready multi-tasking machines. 
These machines included the Integrex i-300S advanced multi-tasking machine that features second turning spindles for Done in One part processing and works to minimize fixtures, tools, handling, and non-cut time and the Integrex j-200S multi-tasking machine with an integral spindle/motor headstock for heavy-duty and high-speed cutting and two turning spindles and milling spindle-produced steel bottle openers, and the QT-Ez 12MY 2-axis machine showcased milling and Y-axis off-centerline capability.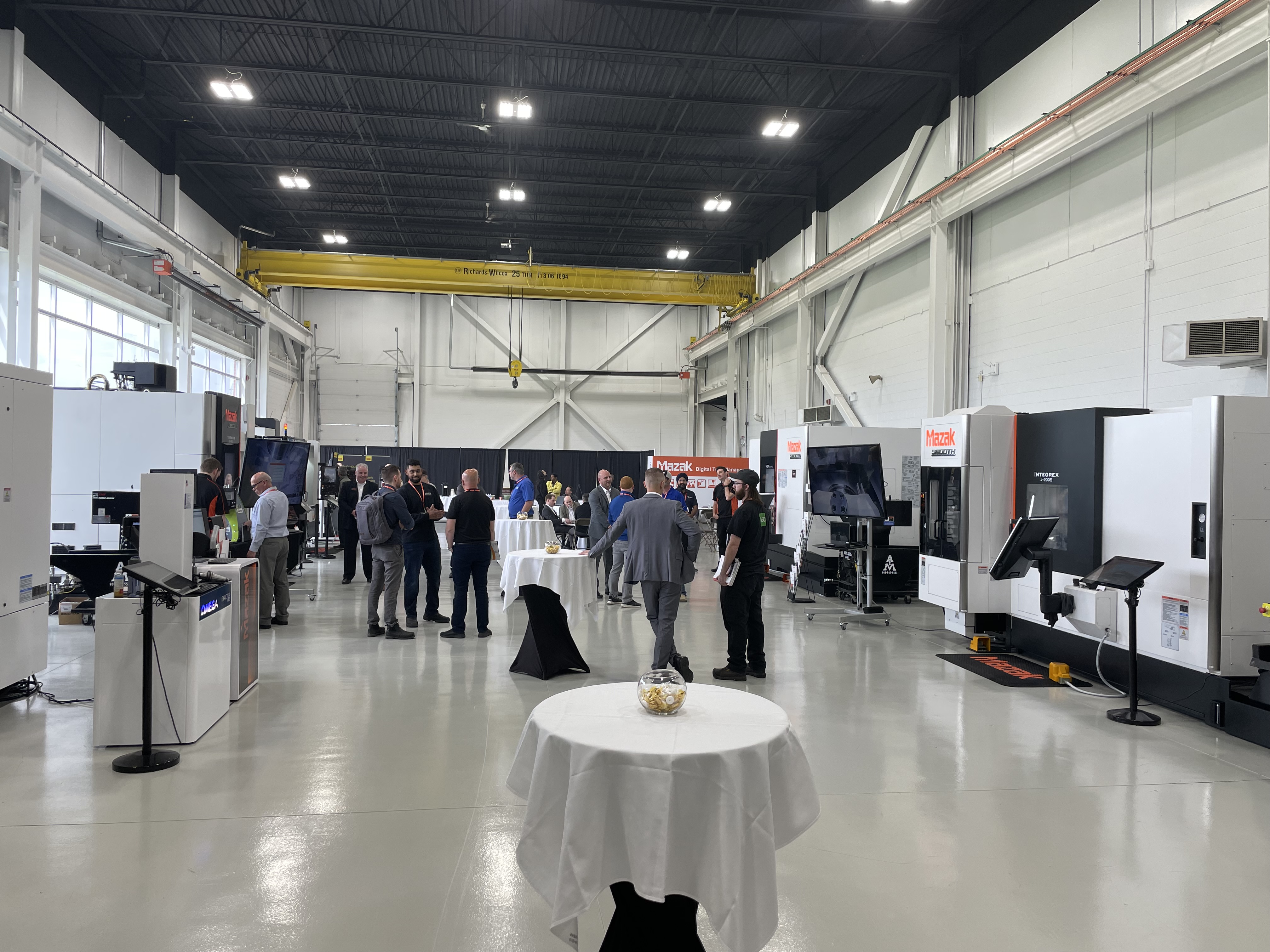 Both sites showed off turning centers, including the Quick Turn 450MY CNC turning center with multi-tasking capabilities that perform milling and turning in the same setup and was demonstrated to execute heavy roughing, drilling, boring, and threading.
In Cambridge, Mazak featured its HQR-200MSY twin-spindle, twin-turret turning center with two high-performance spindles along with upper and lower turrets that facilitate untended complete Done-In-One part processing as it cut aluminum trophies. 
Also showcased in Edmonton and Cambridge was the Variaxis C-600 vertical machining center, which is considered a "first step" into 5-axis machining for some shops, the user-friendly and compact with a tilt table. The company also presented its VC-Ez 20 3-axis VMC, featuring Mazak's Mazatrol SmoothEz CNC that provides dual 800 MHz processors, 512 MB of RAM, and a 15" capacitive touch screen that includes a full keyboard and displays up to 60 lines of code.
Mazak spotlighted AI and Smart monitoring analysis with its Smooth Monitor AX and Smooth CAM AI. Smooth Monitoring AX monitors, connects, and analyzes the performance of not only Mazak machines, but all machines in the factory for higher productivity and efficiency. The data can then be sent directly to the factory floor for fast machine setups and optimization.
Smooth CAM AI allows users to create multiple virtual machines, simulate performance, and analyze data from an office desktop. The data can then be sent directly to the factory floor for fast machine setups and optimization.
Visitors also learned how to reduce inspection setups from 15 minutes to 20 seconds using Mazak's Smooth Set & Inspect software solution that integrates Renishaw inspection probes with Mazak's CNC platform. Smooth Set & Inspect makes part setup, inspection, and tool setting as simple as answering a few questions and hitting a machine's "cycle start" button.