Published
July 01, 2014 - 07:00pm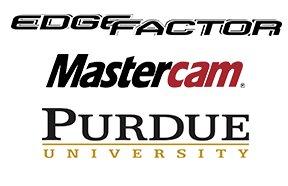 CNC Software, Inc., Tolland, Conn.-based developers of Mastercam CAD/CAM software, is one of the two initial underwriters of Purdue University's MSTEM3 Grant Initiative, aimed at changing young peoples' perception of manufacturing through the eduFACTOR multimedia resource from Edge Factor. CNC Software has underwritten $50,000 to help increase the number of schools that can take advantage of the grant, while The Gene Haas Foundation has contributed $250,000. Because of the grant, upper elementary and high schools can qualify for eduFACTOR's suite of products for as little as $99 per year.
"We have been a supporter and believer in Edge Factor's productions since they started making exciting films featuring compelling, true stories about manufacturing four years ago," said Meghan West, operations manager at CNC Software. "It's with great pleasure that we back this grant to help broaden the reach of eduFACTOR's well-executed resources to relay the engaging reality of today's manufacturing environments and skill requirements to students, teachers, and parents. Industry needs to continually attract people to manufacturing's interesting and well-paid careers to sustain this vital economic sector. Unfortunately manufacturing is misperceived by many in America. Just watching one Edge Factor presentation can begin to really change that."
CNC Software's flagship software, Mastercam, is the leading CAD/CAM program taught in schools. The company established an educational division 30 years ago in Gig Harbor, Wash.
The grant is available on a first come, first serve basis to schools that apply at www.mstem3.org and qualify. Once a school is approved, the institution receives a discount code to submit before their checkout on www.edufactor.org. eduFACTOR offers media from Edge Factor's TV series LaunchPoint, Edge Factor Show and Reality Redesigned, along with virtual presentations, Edge Factor Live events, and more. For each production included in the membership, there is a package of accompanying tools and resources such as lesson plans, event bundles, hands-on projects and career pathway lesson plans. Additional content is added as new productions become available.
Related Glossary Terms
computer numerical control ( CNC)


computer numerical control ( CNC)

Microprocessor-based controller dedicated to a machine tool that permits the creation or modification of parts. Programmed numerical control activates the machine's servos and spindle drives and controls the various machining operations. See DNC, direct numerical control; NC, numerical control.