Published
September 08, 2023 - 08:30am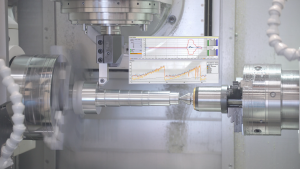 Marposs has developed new and updated solutions that the company says guarantee quality and process control in a production cycle. Products start from part machining, to final quality checks and now also to an industrial software solution to monitor, analyze, and improve the quality and efficiency of industrial production.
At EMO Hannover 2023, Marposs presents the new release of its C-THRU4.0 software. The company has updated its features after 10 years of successful use in the field.
This is a unique suite of SW tools directed to the technical personnel of a factory designed to highlight process anomalies, which uses a friendly graphic interface to identify and choose ways to optimize.
Regarding the creation of systems for part measuring, tool setting, process control for virtually any CNC cutting machine tool, and verification of the precision of the machine, at EMO, Marposs introduces its new visual tool setter: the VTS SF-45 Compact. The new mechanical design maintains the same repeatability and accuracy performances that remain the best on the market since its introduction.
The main objective of the touch probing systems is to optimize the production process of the machine tools, increasing both quality and quantity. Marposs Ultra Probing System is the new touch probing system with Ultra Wideband technology, a real revolution for the machine tool industry.
In an era of ever-increasing demands on machine tools, the need for smaller, more powerful, flexible machines has become a reality. Marposs' Protomar Mini is a revolutionary measuring gage specifically designed to meet this trend for grinding machines and all flexible machine tools.
Not just machine tools, though: at the Marposs booth you will also find NVH G-EAR, the ideal solution for gear noise testing in a manufacturing environment, and OptoCloud GEAR, the newest member of the Marposs Opto line. With the introduction of this new device, a profilometer-like tool can now be utilized for fast testing of various gears or shafts right on the shop floor and near the production line. As a result, logistic costs will be reduced, and the inspection chain will become shorter. This enables the prompt identification of manufacturing trends and more efficient application of necessary corrections.
At the Marposs booth, visitors will also attend live demos of MAINDO, a modular industrial software solution that aims to monitor, analyze, and improve the quality and efficiency of industrial production. The software combines IoT technologies with an intuitive user interface to allow monitor and control over the production in real-time.
Related Glossary Terms
computer numerical control ( CNC)


computer numerical control ( CNC)

Microprocessor-based controller dedicated to a machine tool that permits the creation or modification of parts. Programmed numerical control activates the machine's servos and spindle drives and controls the various machining operations. See DNC, direct numerical control; NC, numerical control.

grinding


grinding

Machining operation in which material is removed from the workpiece by a powered abrasive wheel, stone, belt, paste, sheet, compound, slurry, etc. Takes various forms: surface grinding (creates flat and/or squared surfaces); cylindrical grinding (for external cylindrical and tapered shapes, fillets, undercuts, etc.); centerless grinding; chamfering; thread and form grinding; tool and cutter grinding; offhand grinding; lapping and polishing (grinding with extremely fine grits to create ultrasmooth surfaces); honing; and disc grinding.

process control


process control

Method of monitoring a process. Relates to electronic hardware and instrumentation used in automated process control. See in-process gaging, inspection; SPC, statistical process control.