Published
April 03, 2018 - 02:15pm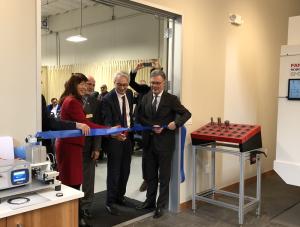 Marposs Corp., Auburn Hills, Mich., strategically placed its new technical center in Silicon Valley, a hub of innovation and technology. Positioned in Fremont California, this new technical center provides customer support of cutting-edge solutions for several of Marposs' fastest growing focus sectors: Consumer Electronics and Hi-Tech; Electric Vehicle (EV); Biomedical and Medical; Aerospace Production, Assembly and MRO; and Energy Production. With an onsite resource center for design, application engineering, and fabrication, and the utilization of the worldwide Marposs organization, Marposs is able to fully support the needs of its expanding West Coast customer base.
"Serving our West Coast clients is at the core of what we want to achieve here in Fremont," stated Donato Donati, Marposs Corporation West Coast business development manager. "This strategic location gives Marposs the ability to provide every customer increased support, access to a wide range of technology, technical solutions, and years of application experience in the widest range of manufacturing environments.
"Marposs' focus on Silicon Valley will facilitate partnerships with tech companies and research universities to further implement our technologies in the computer, communications, consumer electronics, battery, EV, aerospace, and medical manufacturing industries."
Marposs has been in Silicon Valley since the early 2000s with the acquisition of Millennium Automation, a supplier of gauging systems to hard disk drive manufacturers. Its new 10,600 square foot facility offers a development and technological support center which showcases cutting-edge, product- oriented, manufacturing solutions.