Published
August 16, 2017 - 09:00am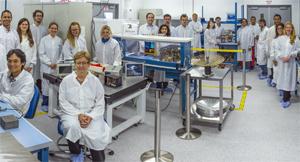 UI LABS and ManpowerGroup have released a workforce analysis that identifies 165 data-centric jobs that will define the future of manufacturing in the United States. Descriptions for jobs such as collaborative robotics specialist, manufacturing cybersecurity strategist and enterprise digital ethicist give a window into the advanced skills and knowledge needed to put new technology into practice and remain globally competitive.
The Digital Workforce Succession in Manufacturing report offers a comprehensive workforce playbook to help companies develop a talent pipeline for existing and future factories. The research includes in-depth profiles for 20 roles that span a range of "digital" technologies and business practices, such as virtual reality/augmented reality systems specialist.
The report also describes the type and level of educational degree associated with each position, ranging from an AAS in Robotics Technology to a Ph.D. in Mathematics or Engineering.
"The new roles we have identified will help prepare American workers for the technological shift that is underway, providing attractive, well-paying jobs for the next generation of manufacturers," stated Caralynn Nowinski Collens, CEO of UI LABS. "A smart factory is going to be very dependent on this new workforce."
"Digitization is transforming the job market, creating a need for people with more advanced skills in manufacturing, and our work with UI LABS is evidence of this," stated Jonas Prising, Chairman and CEO of ManpowerGroup. "By mapping the digital roles and skills of the future, our research will help companies and schools upskill today's manufacturing workforce for the connected, smart machine and augmented-technology jobs of an increasingly digital enterprise. This will help bridge the skills gap and highlights the advanced and attractive jobs emerging on the forefront of the manufacturing sector."
UI LABS' Digital Manufacturing and Design Innovation Institute and ManpowerGroup's Right Management and Experis brands conducted the research, which was supported by more than 30 industry, academic and government partners. DMDII financed the research using funds from the U.S. Department of Defense, with ManpowerGroup's experts leading the detailed skills analysis.
The project is part of DMDII's mission to promote the adoption of new technology across U.S. manufacturing. It also aligns with ManpowerGroup's broader MyPath strategy aimed at closing the skills gap by identifying the roles of the future, building the talent and skills that clients need, and providing people with the guidance and access to jobs that enhance their employability for the long-term.
"The workforce analysis conducted by DMDII and ManpowerGroup offers insight into exciting new roles and skills needed to advance American manufacturing," stated Gail Norris, Director of Customer Technical Learning Services at Siemens. "The report envisions a future in which digital technologies like artificial intelligence and augmented reality are commonplace in factories across the United States."
Read the full report, The Digital Workforce Succession in Manufacturing, and view the 20 detailed profiles of advanced digital manufacturing roles at www.uilabs.org/taxonomy.
Information provided by ManpowerGroup: www.manpowergroup.com
Related Glossary Terms
robotics


robotics

Discipline involving self-actuating and self-operating devices. Robots frequently imitate human capabilities, including the ability to manipulate physical objects while evaluating and reacting appropriately to various stimuli. See industrial robot; robot.